Stacey's Story: Working with Postpartum Psychosis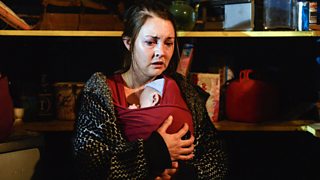 Clare Dolman, trustee of Action on Postpartum Psychosis and Vice Chair of Bipolar UK, explains how the charities worked with EastEnders on the storyline.
EastEnders asked me to consult on the storyline about Stacey having a baby because, like her, I have bipolar disorder and faced similar problems when I had my children. When I had my daughter Esther at the age of 28, I was advised to stop taking the mood stabilising medication lithium which had kept me completely well for the last five years.
Unfortunately, when my little girl was born (a healthy weight and with no complications), the birth triggered a frightening episode of postpartum psychosis. Within days I found it impossible to sleep, was very excitable and agitated and began hallucinating and having paranoid thoughts. I spent five weeks in hospital - with Esther being cared for by my family - before I recovered enough to come home and start looking after her myself.
Stacey's and my experiences are not unusual for women with bipolar; about 20-25% will be affected by childbirth in this way, usually within days. One theory is that the massive hormone fluctuations that occur at childbirth, combined with the effects of lack of sleep, can trigger an episode of severe illness in some women, particularly those with bipolar or postpartum psychosis in their personal or family history.
Psychiatrist Professor Ian Jones, Director of the National Centre for Mental Health, Cardiff University also visited the EastEnders studios with me and advised on the scripts. He says we don't yet understand fully the causes of postpartum psychosis: 'Women with this condition can be as severely ill as anyone we see in mental health services – we need research to understand what triggers these episodes and the help of women who have experienced postpartum psychosis to find the answers.'
The majority of women with postpartum psychosis need to be treated in hospital with medication. Where possible, women should be admitted with their baby to a mother and baby unit (MBU) but currently only about half of women in the UK who need an MBU have access to one. That's why the Maternal Mental Health Alliance is campaigning to improve the provision of specialist services to treat women who have mental health problems in pregnancy. Their website Everyone's Business shows the vast areas of Britain which lack perinatal services.
To help with this and to support women who have suffered from the condition, APP – Action on Postpartum Psychosis was set up. This is a charity run by a group of women like me who have suffered with the illness together with medical experts and academic researchers. Our website provides information and support for women, their partners and families and also has an excellent internet forum where women answer each other's questions and give each other support. As Dr. Jess Heron, Director of APP, says: 'Postpartum Psychosis is a devastating and frightening illness. The lack of public awareness about it directly impacts on sufferers and families - causing delays in treatment, stigma, and a desperate lack of support and information."
As a result of my experiences, I run workshops with Professor Jones through APP and the national charity Bipolar UK for women with bipolar who need information on how to stay well when they have children, and we've produced a free to download leaflet on the subject.
It's great that a much-loved programme like EastEnders that's watched by millions is shining some light on this devastating condition that up until recently has been shrouded in mystery and stigma. I have been tremendously impressed at the care and trouble the whole production team has taken to find out about the illness and the efforts made to portray it as accurately as possible in a drama.
It's likely that millions of people will hear about postpartum psychosis for the first time because of EastEnders, which is a brilliant way to raise awareness of the condition and tackle the stigma against mothers with mental illness. There may be women suffering the symptoms right now – or men wondering why their partner is acting so strangely just after giving birth - who need to know about this condition and get some help urgently. Thanks to EastEnders they're now more likely to recognise the symptoms and get help as soon as possible.
Stacey is seriously unwell but, like the vast majority of women with postpartum psychosis, she is likely to respond very well to specialist treatment and go on to be an excellent mother to her new baby.