Jack and Ronnie's home wedding video!
Disappearing dosh, a kidnapped groom and a desperate dash to the alter... it can only be a Walford wedding!
Jack and Ronnie tied the knot in true Square style, as we were all kept on tenderhooks as to whether the will-they-won't-they lovebirds would actually hear the words: "You may now kiss the bride." AND THEY DID. *Puffs on a party horn*.
Before Roxy's bag of crumpled notes went awol, the frantic Maid of Honour managed to pay off a cheap cameraman to film a wedding video. Perhaps she should have coughed up more cash?
Tip: Never use a camera operator from 'Walford Weddings'. Unless of course you like viewing trees and gravel.
As the blooming bride and gorge groom embark on a beautiful journey of togetherness and love - *I'm almost making myself barf* - why not shower the happy couple with a warm wish?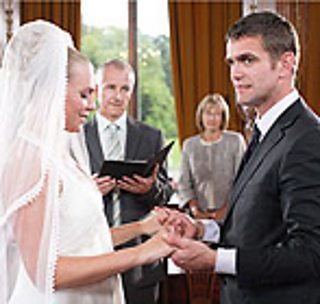 In other words, send the pair a funny message.
Whether you wish to send them words of congrats, or perhaps tell them how utterly fab they looked, or just to hand them a nugget of advice (I'm sure they'll need it). Write your words of wisdom below and I'll be sure to hand them on...
Send us your gems for Jack and Ronnie... mushiness, humour, sympathy are all welcome!
If you're still in the clouds in confetti mode... check out part one of EastEnders: The Greatest Weddings on BBC Three.
Which Walford wedding rings your bells? Let us know!