With Mick and Linda Carter (aka Danny Dyer and Kellie Bright) on their way to take over The Queen Vic this Christmas, they will be joined by two of their three children, Nancy and Johnny.
19 year old Mummy's boy Johnny is the baby of the family. The first Carter to go to uni, he's a gentle boy who's happy to let the rest of his family be the centre of attention. But Johnny has a secret that is going to place him right at the centre of a family storm.
Tomboy Nancy is 21 years old. The last at the bar and first into a fight, Nancy is stubborn and fiery; her dad loves it, but she's a disappointment to her mum. Underneath, she's an extremely caring and loyal friend who will always champion the underdog - but that generally gets her into trouble. And she brings a whole lot of trouble with her when she's dragged kicking and screaming into Albert Square.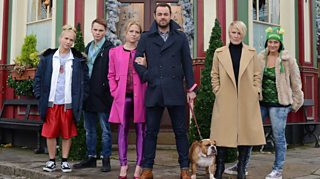 Sam Strike will be playing Johnny. Sam has previously appeared in CBBC's M.I.High. Speaking of joining EastEnders, Sam said ''I'm really excited to be joining EastEnders and the Carter family. They're all really strong characters and I can't wait to see what EastEnders has planned for us all. I've grown up watching Danny and Kellie, both of whom are lovely, so to be playing their son is kind of surreal."
Nancy will be played by Maddy Hill. Maddy has previously appeared in Whitechapel, as well as theatre productions The Meeting Place and As You Like It. On joining EastEnders, Maddy adds "I feel incredibly privileged to have been given such an amazing opportunity and I can't wait to start work with such a talented cohort of actors."
Danny Dyer and Kellie Bright have already started filming their new roles as Mick and Linda Carter. Along with Linda Henry, who plays Shirley, and Luisa Bradshaw-White, who arrives on screen next month playing Tina, the Carters are set to cause a stir in Walford later this year.
Executive Producer Dominic Treadwell-Collins has said "My team have worked incredibly hard over the past few months to create the Carters - a contemporary British family with cracks, knocked edges and a touch of darkness that is going to make them very special to watch. A family of strong characters who love and hate each other, all rooted in the best traditions of EastEnders.
Starting with Shirley, the Carters are slowly going to creep into Albert Square as Christmas approaches and by New Year, there will be a new vibrant EastEnders clan, firmly ensconced in the Queen Vic. Watch out Walford, The Carters are coming!"