Picture gallery: w/c 19 April 2010
*Contrary to the byline, this Picture gallery is the work of Insider_Rob*
Amira may have baby blues, Jack's still out of whack and Masood's messed up after seeing his son in a new light.
This week's all about... babies, bullying, and a bit of doctor, ooh!
Monday 19 April:
Steeled with a kiss...
It's definitely a case of "doctor, ooh!" as Ronnie gets smoochie with the manly medic. Just don't stick your keys in his ear, dear!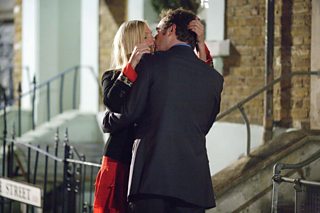 Cake and heartache
There may be talk of a bun in the oven, but there's definitely cake on the table round at the Masoods'. What (or who?) will birthday boy Syed wish for when he blows out his candle?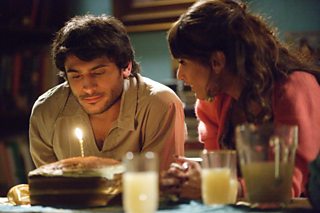 Tuesday 20 April
You gotta have faith
A confused Masood heads to the mosque to talk things through with Imam Ali.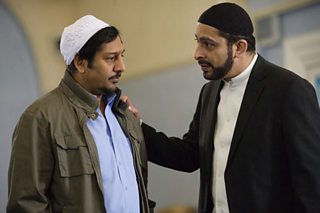 Café confrontation
Never mess with a Mitchell, or try to be smarter than a Carter! Phil and Shirl bother Ben's bully's dad in a feisty face-off with Tasha's pop, Joseph.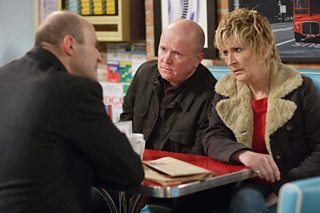 Thursday 22 April
Mouth-to-mouth
Just when we thought Steele might just be what the doctor ordered, Ronnie's decided to get a second opinion - trying out the kiss of life with Jack. Nurse, the screens!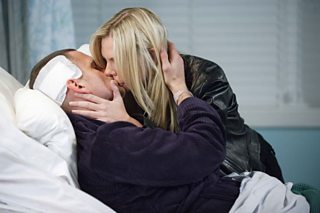 Testing times
Chelsea and Amira take pregnancy tests at Roxy's Salon. Presumably they're really hoping the results will be pink - if only to match the décor!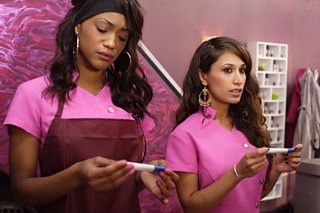 Friday 23 April
We are family
The gloves are off (well, actually they're still on, aren't they Zainab?) as the Masoods meet up. We just want to know what's in the box. Perhaps somebody should call Noel Edmonds?