Walford is set to get bigger
Does anyone know a good builder? It's been announced that EastEnders has been granted approval to rebuild and expand its exterior set at Elstree in order to secure the long-term future of both the show and site.
EastEnders has been filming on the existing exterior set (seen here as it was originally being built) for nearly 30 years.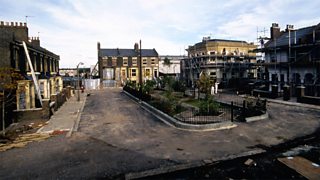 The new set will replicate the appearance of the existing one, but will be 20 per cent bigger - to enable your favourite show to tell even more ambitious stories. In the long term, use of the temporary set may include visitor tours and educational opportunities.
Dominic Treadwell-Collins, Executive Producer, EastEnders, says: "This is a really exciting project and firmly demonstrates the BBC's commitment to the future of EastEnders. We have ambitious plans for the show and the new exterior set will help bring those to life and better reflect the East End of London on screen for audiences. The bigger and improved set will increase the potential for storylines, increase quality and meet the demands of future technology requirements. Crucially, it will provide a greater sense of scale with more locations for our characters to spend time in, opening up new areas and opportunities that haven't been possible before – all of which are in the best interest of our viewers."
Kate Harwood, Head of Drama England at BBC Drama Production, added: "I'm glad the BBC Executive Board has agreed that this project is crucial to investing in the future of EastEnders. The improvements and modernisation are vital to the growth and development of the show. As we approach the show's 30th anniversary, this is a really exciting opportunity to underpin the future of one of the BBC's most important programmes."
It is expected that initial work will begin at BBC Elstree later this year, followed by the start of construction work for the temporary set in early 2015.