Picture gallery: w/c 26 April 2010
Heart to hearts, big revelations and Family with a big, capital, F.

This week's all about... the truth behind Syed and Christian, less than cosy meals for two, a smooth-talking journo, and oh, some hilarity over T-shirts!

Monday 26 April:

Come on, Chelsea

Mother and daughter have a heart to heart on what's fast becoming the traditional home for such a thing - the Queen Vic sofa (well Arthur's bench is a bit drafty). Or maybe Denise is just trying to persuade a reluctant Chelsea it's her turn to get the drinks in.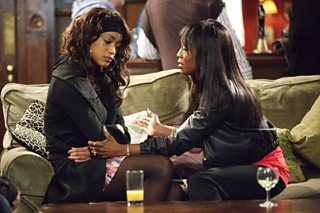 The writing's on the wall

Is Amira hysterical over the revelation of Syed's infidelity, is she wondering what colour scheme to go with next, or are they both practising some killer Tango moves for the next series of Strictly? You decide!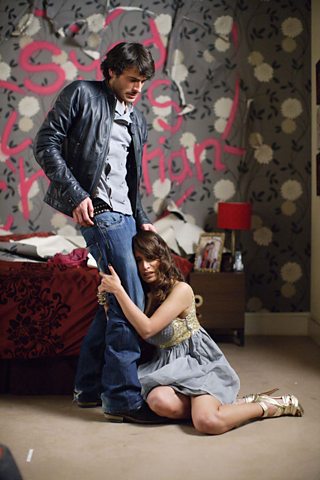 No laughing matter

Tamwar's face says it all - even he'd be hard pushed to crack a one-liner over this one, as Syed confronts his family alongside Christian.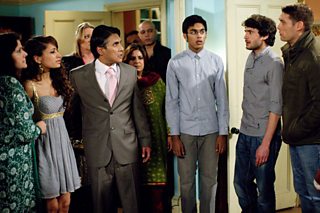 Tuesday 27 April:

Gossip Girl

Zainab is comforted by Masood as her neighbours round on her. Personally, we think he should turn to the extra on the right - that clashing pink hat and fleece combo - what was she thinking?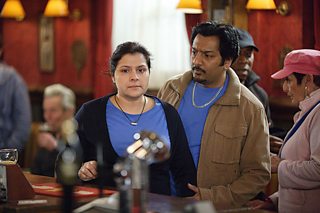 Thursday 29 April:

Bottoms Up

Have relations thawed between Ronnie and Roxy - or is that just the mocrowave meals for two they're tucking into? Don't expect a happy ending, though - Mitchell gatherings NEVER END WELL. It will end in tears, mark my words.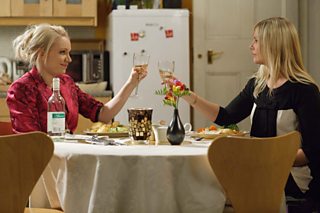 Friday 30 April:

Fashion Victim

Becca thinks she's got one over on Whitney by nabbing some of Whit's T-shirt stock. Fatboy, however, may have stitched her up.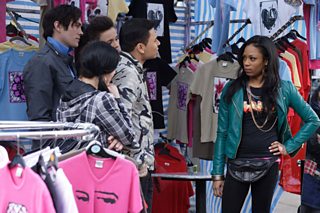 Ladies Man

Silver fox journalist Harvey's already making headlines with Peggy and Pat, but surely he's not holding the front page for a fling with Dot too?