Eco-Enders – EastEnders earns top sustainability award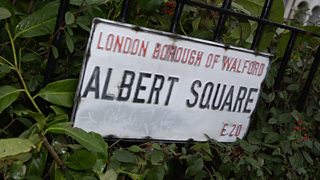 TV's most famous neighbourhood, Albert Square, has gone green with cast and crew going the extra mile to achieve the albert+ certification for its efforts in sustainable production. By adopting a wide range of initiatives to help lower its carbon footprint, EastEnders has earned the highest award - three stars - for its participation in the scheme, making it one of the greenest shows on TV.
Created in 2014 by the BBC, Albert+ is an industry-wide scheme that encourages sustainable thinking and awards certification to TV programmes that adopt low carbon, environmentally friendly production techniques.
The albert+ badge will be displayed on the end credits of the show for the first time today (Monday 9th May).
In preparation for adopting a more eco-friendly approach on the BBC One continuing drama, two new studios that have been built have been equipped with low energy lighting. The purpose-built studios are saving enough energy to power nine houses for a year.
Solar-powered equipment has been introduced on location, while cast and crew travel around Walford in low emission vehicles to drive down the programme's carbon footprint.
Since starting the campaign to be more eco-friendly in 2009, EastEnders has also:
Cut its paper usage by 50% across script and other weekly documents, and across all other paper usage it has been cut by 20% - together this has saved 1000 reams
Replaced all DVDs with an online viewing platform saving roughly 2500 DVDs per year
Recycled sets and costumes as well as paint and pots from set design
Engaged suppliers to reduce impact of energy generation on location
Enforced recycling across the board in all areas with clearly labelled bins
Banned polystyrene cups, saving enough cups to cover the ground of Wembley Stadium eight times
Introduced mains water supplies to eradicate single use plastic water bottles in studios
Sue Mather, EastEnders Line Producer: "We are extremely proud to have achieved our three stars for albert+ at EastEnders. We have made a range of permanent changes, such as installing low energy lights in two of our studios and beginning to use solar powered equipment on location, and we are already seeing the benefits. However, this is just the beginning and we have even more ambitious and exciting changes on the horizon for the coming year."
Scott Maslen, who plays Jack Branning, says: "It's really important that everyone does what they can for the environment and it's great working in Walford knowing all the positive changes that are taking place."
The albert+ process was created in 2014 and is becoming increasingly standard industry wide. Over 75 productions have achieved the certification in-house at the BBC, and over 25 across the rest of the industry through participation in the BAFTA Albert Consortium. Across the BBC shows including Springwatch, BBC Breakfast, Casualty and Dragons Den have all been awarded the three star albert+ certificate. The BBC is part of the BAFTA Albert Consortium along with a number of other broadcasters including Sky, Channel 4, ITV and UKTV.