Behind the scenes: EastEnders meets Corrie!
WOW factor has struck our screens this evening from BBC's Children in Need. Who'd have thought we'd watch two of our nations sweethearts, Cheryl and Kylie, or even a sneak peek at the Dr Who Christmas Special?!
NOT ONLY THAT, but we've witnessed a historic TV collaboration... no, not The Saturdays teaming up with McFly, but EastEnders and Coronation Street uniting for the first time EVER!
Walford's residents hit the cobbles of Weatherfield, and Rovers regulars turned up in Albert Square in an exclusive mini-episode.
If you missed the mini-episode, you can watch it as many times as you like on the on the CiN website.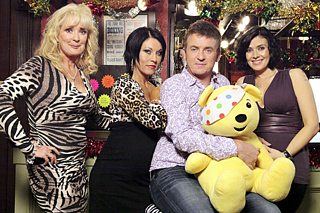 Want to know how this fantastic collaboration happened? We'll be adding behind-the-scenes footage here... so check back soon!
And you can donate to CiN, no matter how big or small, by clicking on their website: http://www.bbc.co.uk/pudsey/donate/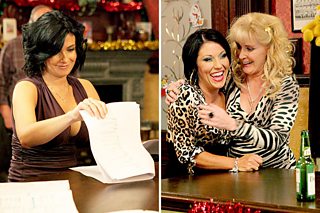 Would you believe that Kym Marsh would like to be Kat if she was in EastEnders? The Corrie star said: "I think her character is fantastic. She's so feisty and she's got an attitude."
The former HearSay singer also added: "I've loved working with Jessie as well. It's been great."

Nitin Ganatra, who plays Masood, described working with the Corrie cast as "fantastic" and "very exciting to have the crossover."
And who would Nitin be if he were to cross the cobbles? "Even though he's not there anymore, I would have been Jack Duckworth. His comic timing was brilliant."
Diane Parish, who plays Denise Johnson, admitted to being nervous, but "honoured to be working with Helen Worth."
So much for all that soap rivalry, eh?
Which EastEnders character you would be?