EastEnders working alongside Samaritans on storyline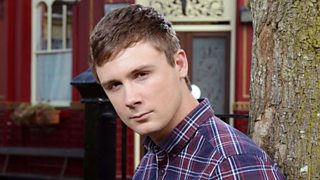 EastEnders has been working closely with Samaritans on a storyline which sees Lee Carter (Danny-Boy Hatchard) contemplate suicide.
Over the past year, viewers have seen Lee struggling to cope with a number of significant pressures and in recent episodes, things have got even worse for Lee as he has had to contend with the burden of his many secrets which has sent him into a dark downward spiral. In tonight's episode (Thursday 29th), Lee left a note for his family in his car.
Viewers have recently seen Lee suffer in silence after hiding the fact he was involved with the break-in at The Vic. Earlier this week, Lee was forced to tell Whitney the truth after his wife caught him being arrested. On top of this, Lee has continued to hide his financial woes from his family and instead has resorted to desperate measures to earn enough cash, including multiple payday loans and stealing from his family.
In tomorrow's episode (Friday 30th Dec) everything will come to a head for Lee as the guilt and consequences of his actions becomes too much leaving Lee wrongly believing his family would be better off without him.
Lorna Fraser, Samaritans' Media Adviser said: "Given the sensitivities with covering the topic of suicide we were pleased that EastEnders came to us for guidance on Lee Carter's storyline.
"Increasing people's understanding on the issues surrounding suicide, such as the kinds of problems that can lead a person to experience suicidal feelings and encouraging people to seek help, can help generate conversation and for some this can be a lifeline.
"Coverage of suicide, in drama and news, carries an element of risk, therefore it's important that guidance is sought. Samaritans has been working with the media for over two decades providing expert advice on this.
"We would encourage any viewers who have been touched by Lee's story to get in touch with Samaritans, we are here day and night, to listen and give confidential support. People can call us free of charge on 116123, or email jo@samaritans.org or find the details for your local branch at www.samaritans.org. Calls to Samaritans' helpline do not show up on phone bills."
Danny-Boy Hatchard adds: "Lee's storyline is covering such an incredibly important and serious issue and I can only hope that his journey will encourage people to speak out about their problems and come to realise they are not alone."
EastEnders has a rich history of tackling difficult and sensitive issues and Lee's story is one of these.