Photo spoilers: Norman's heart goes pitter Pat-ter
Ahead of our regular Tuesday selection of preview pics (this time for week commencing 24 October), we've managed to get our hands on one a little bit early, so thought we should share it with you!
Norman finally gets to lock lips with the love of his life, Pat. Is she destined to be his sixth and final wife? Time will tell...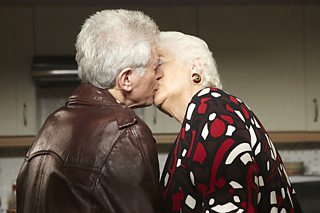 Check back on Tues 18th October when we'll be putting up lots more spoiler pics!