You'll already have witnessed Kim's... er... relaxed approach to health and safety in her online spin-off series, reality/documentary Kim's Palace (watch all episodes here).
Consequently, the documentary team behind 'The B&B - Kim's Palace' have been saddened (but not altogether surprised) to learn that the Kim's Palace kitchen has been forced to close after a surprise visit from the Environmental Health Inspector.
A source from Environmental Health was quoted as saying " I wouldn't even let my dogs stay the night. And that's saying something as they're not fussy where they sleep".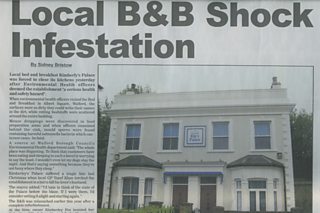 The reality/documentary series 'The B&B - Kim's Palace' followed self proclaimed "ruthless and ambitious" businesswoman Kim as she went about her day to day tasks at the East End bed and breakfast.
Kim offered tips for success and explained her ideas for the expansion of her brand... plans which surely must be scrapped in the wake of recent events. Unless mould spores and mouse droppings were part of her business plan... We wouldn't be surprised if they were. Watch all episodes of Kim's Palace now.