Episode discussion for week starting 9 January
New Year, New Faces
Coming to an Albert Square near you... it's Ray Dixon, Bianca's ex and Morgan's dad, and Lucy Beale - who might not be very happy with the cuckoo in the Beale nest. If it was anyone but Mandy we'd advise they pack their bags immediately. But as Ms. Salter doesn't take any prisoners either... we'll just sit back and enjoy the show, shall we?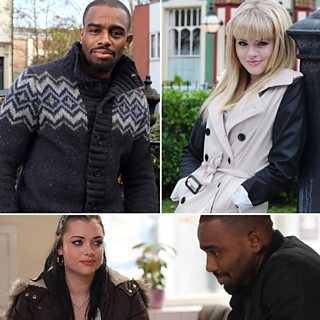 And goodbye to old friends
Get your tissues at the ready, it's Pat's funeral - and the whole of Walford is out in force to say goodbye to a legend. If you haven't already, you can pay your respects here. Meanwhile, Jack also remembers baby James who died a year ago.

Hmmm.... what's going on here, then?
We loved how David reacted when he saw Carol again for the first time after all these years. Looks like there's a light that's never gone out... Unfortunately Derek isn't so keen. Should Carol revisit the past, or listen to her big brother?

... or here?
Meanwhile, Whitney's made a big mistake... and Tyler's shoulder is conveniently nearby... Should he back off as Fatboy has told him? Or should he follow his heart?