Mark Fowler Jr.'s dramatic entrance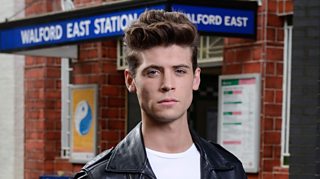 Mark Fowler Jr has landed flip flop first into Walford from the sunnier climes of Florida as part of a sensational storyline that is EastEnders longest kept secret.
Played by Ned Porteous, Mark Jr., the son of Michelle Fowler, is a warm, caring and honest young man. But he is also half Mitchell – unbeknownst to his dad Grant Mitchell. Will Grant finally discover the truth about his son?
"Being part of two iconic families and the longest kept secret in EastEnders' history is beyond exciting!" Ned revealed. "I'm honoured to be here and can't wait for viewers to meet Mark Jr."
Mark Jr.'s mum, Michelle, left Walford pregnant and fled to Florida, with only her brother Mark knowing the truth about the baby's father. Since then Martin and Pauline found out the truth about his paternity but he has never been seen on the Square…. until now.
Mark Jr. is coming to London in search of answers. But should he be careful what he wishes for? And will that dangerous Mitchell side come to the surface?
James Bye caught up with Ned to find out more about the intriguing backstory of Mark Fowler Jr.