Bryan Kirkwood to leave EastEnders
Bryan Kirkwood has announced that he is stepping down as Executive Producer of EastEnders.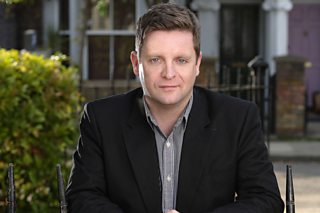 He's been at the helm of the good ship Enders since March 2010, and orchestrated some of the show's most talked about episodes, particularly, the 'baby swap' storyline and the final days of Walford icon, Pat Evans. He also brought Kat and Alfie back to the Square, as well as David and Simon Wicks. He's introduced many new characters - to name but a few - Cora Cross, Derek Branning, the Moon brothers Michael, Tyler and Anthony, and the recast of Lauren Branning, played by Jacqueline Jossa who recently won an NTA for Best Newcomer.
Under his tenure, the show has won the full set of BAFTA, RTS, NTA and British Soap Award. EastEnders was the most watched programme on both Christmas Days for the past two years - this year beating Downton Abbey and peaking at 10.4 million.
Lorraine Newman, Series Producer, will be taking over the role on an acting basis.
Bryan said: "Being the Executive Producer of EastEnders is one of the most exciting jobs in TV, but it's also the most exhausting - so after two years, I've decided it's time to leave Walford. It's been a thrill to work with such talented people such as John Yorke, Simon Ashdown, and our amazing cast and crew. Most of all it's been a privilege to tell stories that have genuinely had the nation talking. I'm going to take with me some brilliant friends and memories.
I'm delighted to leave the show in the capable hands of Lorraine Newman. Lorraine has been by my side every step of the way for the last two years and knows EastEnders inside out. I wish her and the show every future success."
John Yorke, the BBC Controller of Drama Production and New Talent paid tribute: "I would like to thank Bryan for his extraordinary hard work, a chest full of awards and some great storylines. It's been a pleasure working with him and I wish him every success for the future."
Bryan will be sadly missed by all of us here on EastEnders. He'll be sorely missed, and we'd like to say thank you to him for being such an excellent guvnor.