June Brown at 90 – a Walford Legend
Ooh, I say! To coincide with the star's 90th birthday, BBC One is set to broadcast a special thirty minute documentary next month.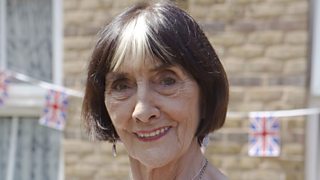 "Give us a tea, Lofty. And a glass of water so I can take a Paracetamol." Those were the first words June Brown ever uttered as Dot Cotton, and they would prove to be a turning point in EastEnders' history.
Celebrating a milestone birthday, June Brown at 90 – a Walford Legend, spends half an hour in the company of one of Albert Square's most beloved actors, as she talks about her life and career. From her early days in theatre, to the reason she believes she was cast in the role of Dot, June Brown's views on almost everything are both surprising and entertaining.
"June Brown is a one-off, a genuine national treasure. It's been a privilege to be given the chance to capture her magic," explained Executive Producer Caroline Wright.
June talks of how in the early days, she was seen as a rival by a fellow cast member, and how she coaxed more out of her character than just being a hypochondriac ("I loved it when Dot went hysterical"). She also reveals the effect Dorothy Branning has had on her life and the opportunities it has given her, from BAFTA nominations to revealing all in Calendar Girls.
But who is June Brown? And how similar is she to her EastEnders' character? Funny, eccentric and straight talking, while Dot might be often impersonated, June Brown is unique.
Featuring contributions from many Walford regulars (Danny Dyer, Adam Woodyatt, Gillian Taylforth, Rudolph Walker, Lacey Turner and Natalie Cassidy) all of whom pay tribute to their unique colleague.
The show's Producer is Matt Taylor.
Don't miss June Brown at 90 – a Walford Legend, which premieres from 8.30pm to 9pm on BBC One on Thursday 16 February.