Photo Spoiler: Relationship blues
Relationships are never easy on Albert Square, but there seems to be more than the usual share of trouble and strife flying round next week...
Over at Carol's, David wakes up in a right old mess, after his attempt to run off with his business partner's money ended badly! Luckily for him, Carol is on hand to tend his wounds, and you can be sure David is relishing every moment.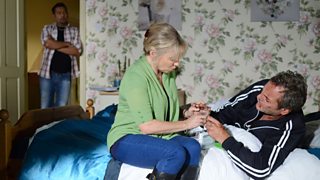 Having David around though, is proving to be quite the fly in the ointment for Masood! And the two men seem to be taking it in turns to linger jealously in the background, as Carol's attentions are split between the two! The stage is set, and the games will begin, as the two men compete to win her over.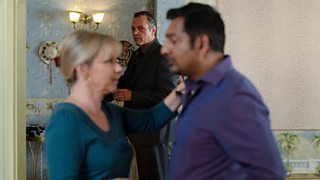 Meanwhile, Poppy, ever the cheerful optimist, has grand plans for her and Fatboy. She excitedly reveals that she's been looking into them buying a place together outside of London! Just one thing, Fatboy isn't so sure...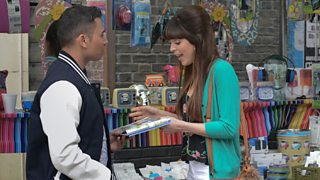 And there's tears aplenty when Fatboy bursts her bubble, telling that's not what he wants at all! Poppy is devastated. Could this spell the end of their relationship?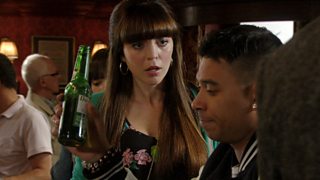 Surely then, we can rely on Tamwar and Alice to provide a bit of love and happiness?! But, it seems, all is not right in their burgeoning romance either! After spending the night together, Alice is having doubts and decides it might be better to call things off...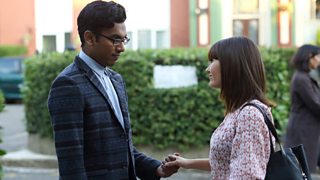 But, wait! There's a ray of sunshine, when Poppy tells Alice to stop comparing Tamwar to Michael, and give things a chance. Sound advice - after all, Michael is partly psychotic - and advice that Alice seems to take on board. When she meets with Tamwar later, she invites him back to her place!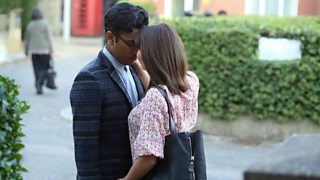 So maybe there is hope for our EastEnders love matches? Tune in all next week from Monday 30th September to see these relationships play out!