Picture gallery: w/c 3 May 2010
Bedside bonding, rent-related rucks, Fat beats and chain reactions...

This week's episodes are all about... marital mayhem, club culture, teen tearaways and devious Danny.

Monday 03 May:

Knock, knock...

Who's the spooky figure at the doorway? Masood looks scared - and so he should be - he's just banished Zainab from the family home.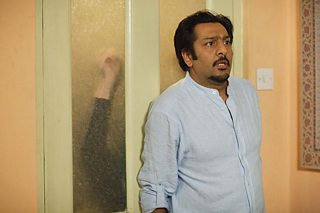 It's curtains for someone

There's more scary goings on with Fatboy and Leon, as they net a ghostly stranger. We're more frightened by Fatboy's Adam Ant style make-up. More Prince Alarming than Prince Charming, we reckon.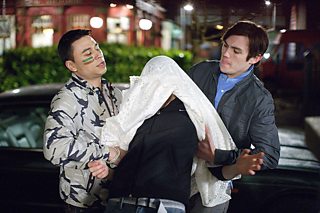 Tuesday 04 May:

Patients are a virtue

Ronnie arrives at Jack's bedside - personally, we can't understand why she ever leaves it - we're loving his Prison Break look.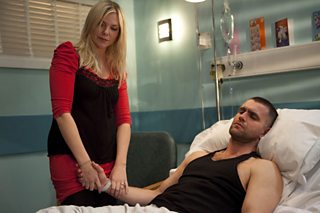 Market forces

Ian and Jane look far from happy in this shot - has Billy been caught selling non-EU compliant bent bananas again?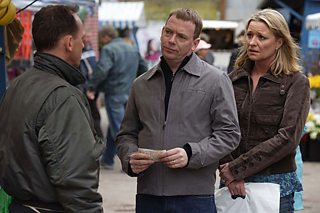 Thursday 06 May:

The customer is always wrong

Wideboy Fatboy tells Ronnie that the R&R is for the oldies - and that she really needs to work on her lemon and lime cocktail. Tact is not his middle name...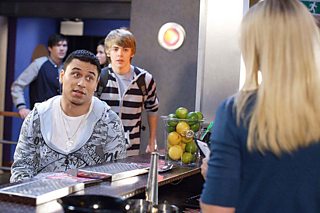 Decks appeal

But Slim may be his surname, as he spins the platters that matter in order to get the kids hip to the beat.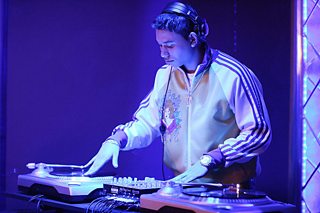 Friday 07 May:

Patients are a virtue

Roxy and Danny discuss the cost of private health care for Jack. Mind you, in that Prisoner-esque jacket you could be forgiven for thinking Roxy is discussing who is Number One and how they're going to escape the Village...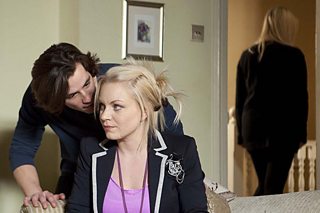 Tied up

The less said about this picture the better... erm we're sure it's not as bad as it looks.