We gave YOU the chance to quiz Walford's business guru, Kim Fox, star of reality documentary series, Kim's Palace: The B&B (available to watch here now).
Kim very kindly took time out from her hectic schedule to answer a selection of your questions.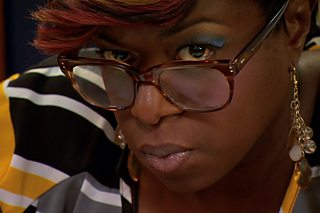 ANGELA LOWTHER: I have an idea on how to stop kids getting out of their car seats, how do I go about actually doing it?

KIM: My advice is "Don't have them!" (kids, that is). But if you do have kids, a good way to stop them getting out of the car seat is to leave them at home (the kids that is, not the car seat!).
Best advice I can give is to photocopy all your drawings, scribbles, cost details, anything and everything that was used in the creation of your product and post the copy to yourself but do not open it. This is a form of copyright should someone try to steal your idea
Another suggestion is that if you have the time and you don't desperately need to go to the shops, you should walk to your destination. Let the kid feel every pebble in the concrete as they take that long walk. Then give them some shopping to carry home. After that trip I guarantee that they will not want to get out of their car seat (that's what Denise did to Chelsea, it worked!). Good luck.

RACHEL LOYN: Would a spray tan business get me rich?

KIM: Rachel, it all depends on location, clientele and if you yourself would do it or have it done to you. If you have it done yourself, you could be the walking advertisement for your company.
When you look good, people always want to know your secret. For me: "I look this good because I have a great night's sleep every night at KIM'S PALACE". For you: "I look this good because I spray myself!" BTW I'm working on my own brand of tanning lotion. It might be called KIM'COLURE with a French accent. It a hazelnut chocolate brownie color - look out for it!
Other things to consider are - what are the benefits of where you would like to set up? Who do you envision to be your customers - your target market? Will you love doing the spray tans day in, day out, or will you get someone else to do it? I know that's a lot to think about but, in short, will it get you rich?
Good luck Rachel!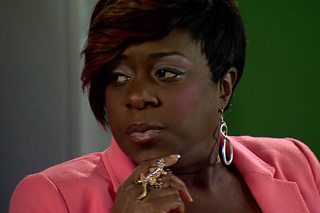 KATHY GORDON: How can you be a confident businesswoman and be confident in your product when there is a lot of competition? I have a business but there's a lot of competition. Can be hard!

KIM: As I always say Kathy, "It might be hard, but it's not impossible!" Being a woman has its own strength in itself. If we can bring humankind into this world, we can do anything. Look at yourself in the mirror. Look into your eyes. Feel and see the fire burning. If it's not, start a fire (in your mind not in the room!). If it means you have to buy a suit or sexy underwear to feel confident - DO IT!

There will always be competition - and competition is a good thing. It can help you learn about yourself and your product. For example, is your product just keeping up with the Joneses or is it a specialist item?
Believe in yourself! Believe in your business! Otherwise people won't buy into what you have to sell them. I think my book BUSINESS - DO YOURSELF A FAVOUR would be a great read for you! Should be out by Christmas!!**
MEGAN BISSETT: I want to get my mom a b'day prezzie and have 8 pounds, how do I make that to 30 pounds? It's for a special one.

KIM: Oh bless you Megan! I love the fact that you value your mum more than £8. Well, here's a suggestion: In life we are not meant to be alone, hence why you should be kind and loving to your friends and family. I know you are by the fact that you asked this question (you sound like a lovely girl - keep it up).
It's also good if the people around you have money - it doesn't have to be a lot. So the suggestion is that if you were to ask five people for £4.40 each you will get £22. If you then add that the £8 that you already have... you will have your grand totale of £30!

I take it you don't have a job, so you won't be able to pay them back. Offering to do odd jobs like washing up the dishes, doing the laundry or cleaning their car is a good way to earn the money without paying it back.
However, depending on the person, you could just ask for it and they will give it to you, no questions asked. I've asked Patrick many times for some money - £2 here, £5 there - and he hasn't asked for it back yet. But this is not something you should do all the time. Happy Birthday to your mum from me!

TABITHA PASCHALIS: How do you begin a good business, and what would be a good business to begin?

KIM: I always say you should look at yourself honestly. What do you like to do? What do you like to buy or wear? Like it says somewhere in the Bible, I think, (or maybe it is a Buddhist thing?): "The answer lies within". Whatever business you set up or go into, you have to enjoy it.
Having said that, I think anything that is in the business of stress relief is a good one - as people nowadays are so stressed out. So maybe a massage business would be good, or better still aqua massage (but this could be a bit expensive if this is your first attempt at business).

I think knitting is also a good business; you've got low overheads and you'll always be warm as you can do it at home, on the bus or at a friend's house. If you plan well and keep motivated throughout the year, you can have a market stall for Christmas - a great time for knitted scarfs, hats, jumpers - it's endless!
AMANDA SIAN FEASEY: Well I've just set up my own business, it enable me to work from home (mainly online) and I am on the way to getting rich quick but what advice can you give me about meeting people?

Walk and talk with the confidence of your business doing well and do not apologise for any of it! From one businesswoman to another I applaud you, as I know it is not easy in business.
Bear in mind that there is a thin line between talking about your success and showing off, which no one likes (Piers Morgan). But you must let people know about your success, as if you don't, who will?!

LYDIA ROSE BENFIELD: How do you attract customers?

You have to advertise by any and every means possible! It's a bit like losing weight - you can't change your diet alone and expect to keep the weight off if you don't exercise! You can't expect people to buy your product or service if you don't advertise!
Look at my business for example. I'm unique and everyone knows it, so I named the B&B after myself. I had leaflets; I had adverts in the papers; I painted the building pink and blue so everybody not only saw it, but were talking about it!
Word of mouth is the best publicity you can get for free - but you've got to make sure they are saying nice things about your business; otherwise this form of advertising is damaging and can be fatal to the business.
For more groundbreaking business advice, watch Kim's Palace now

* Kim was interviewed by guest blogger Tameka Empson and her answers are for entertainment purposes only.
** Don't bank on it.