Photo spoiler: Johnny's drama at the dinner table!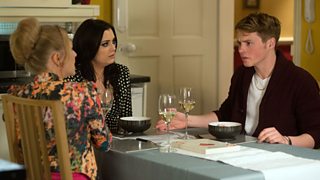 Judging by these pictures, it looks as if the drama between mother and son is set not only to bubble over, but to erupt with an epic force after Linda invites Whitney over for dinner.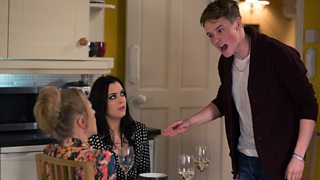 Although Whitney knows she's not strictly Johnny's type, she's still used their blossoming friendship as a way of covering up Cindy's positive pregnancy test, in a similar way to how Johnny originally used her to conceal his sexuality from his parents. Is Linda still holding out false hopes for a love match between the two?
Perhaps Whitney should feel flattered - most mums disapprove of their son's choice of girlfriend!
EastEnders airs these explosive scenes on Thursday 6th February.