Episode discussion for week starting 28 November
Jane loves Masood
Strains of Barry White spill out of this blog post as we urge the people of Walford: do not complain if your post is late this week. The consummation of Masood and Jane's passion has been a long time coming - much longer than your overdue council tax bill.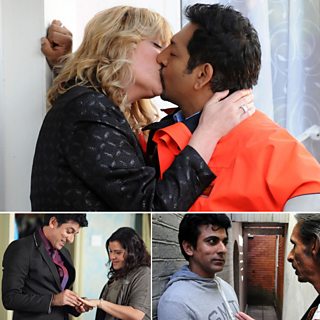 Thing is... we have mixed feelings. We like Masood and Jane, but it's with a heavy heart that we watch Zainab being pulled further under by Yusef. Erk. What do you reckon?
Who should have custody of Amy?

Meanwhile, Roxy's locked in a custody battle with Jack. Is Jack right to think that Roxy is a liability, after Amy's ending up in hospital, or was it an accident that could have befallen anybody? Is Amy any safer in a home where Derek Branning is living? Which parent can give Amy the best home?
Anyone fancy breakfast round Shirley's?
Hmm... not much on the menu if you're a vegetarian. Most likely, veggies can have a slice of toast and a box round the chops for being so bloomin' picky, from our beloved cafe proprietor. Think I'll have the sausage bap.