Picture gallery: w/c 12 April 2010
Poor 'ol Jack's still in a bad way in hospital - will he take a turn for the worse? We hope not.
This week's all about... best buddies, bullying, and of course... CHRYED!
Monday 12 April
Lads' night out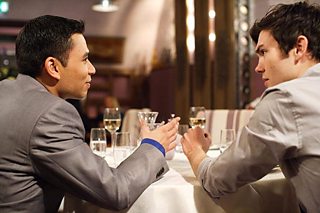 Aaaww... don't they look cosy?
Fatboy
and
Leon
share a glass of the hard stuff whilst out with their dates,
Zsa Zsa
and Julie. Don't the dazzling duo scrub up well?
Bullied Ben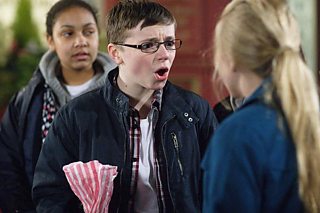 Bullying's a nasty beast. Imagine how
Ben
feels when he's threatened by a gaggle of school girls. Is the mucker singing to 'em? Not sure that will help the situation.
Wires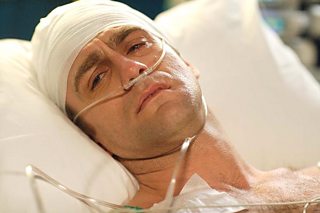 Dutiful
Dot
visits laid-up
Jack
in hospital and informs him that he may not fully recover. Truth hurts, as he halts any more visitors. Give the lad some grapes.
Tuesday 13 April
A lick of paint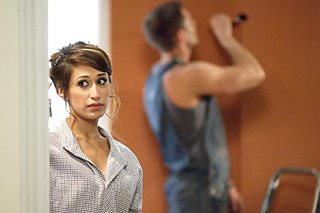 To slap, or not to slap? That is the question.
Christian
advises
Amira
to lay off the face paint to help her flailing marriage to
Syed
, (whilst he slaps it on the walls).
Wise words?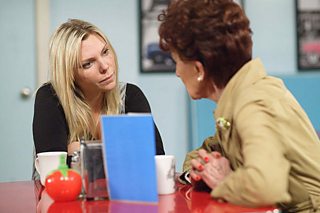 It's good to see Dot's nails are co-ordinated in the cafe. Stepping out in her Mac is a spot-on Spring trend too.
Ron
should take Dot's advice... she knows her onions.
Thursday 15 April
A load of politics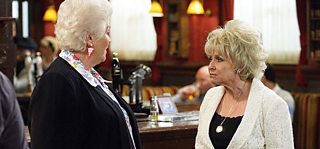 Single matriarchs,
Pat
and
Peggy
provide the pub entertainment when they come to blows over local journo, Harvey. Let the political battle commence!
Mr Softy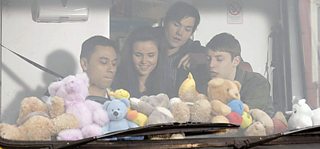 Fatboy is THE man with a plan when he whips the ice cream van off of
Darren's
hands. Check those teddies babygirls... he's obviously more Mr Softy than Mr Whippy.