Phil's story: Royal Free London NHS Foundation Trust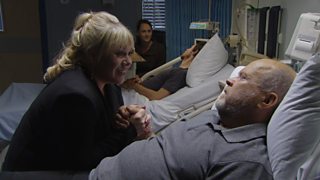 Phil Mitchell has now been referred to the Royal Free Hospital and may require a liver transplant. Liz Shepherd, a specialist nurse in substance misuse and transplantation, at the RFH, explains what it is like for patients like Phil who are referred to the Royal Free and about the hospital's collaboration with the EastEnders team.
Organ transplantation saves lives. At the Royal Free Hospital we perform around 100 liver transplants every year - but we aren't able to perform all the transplants we would like to because there aren't enough organs for the people who need them.
Every day in the UK three people die because a donor organ has not been found in time. That's why it's crucial that more people join the NHS Organ Donor Register and that those people speak about their decision with their families. Currently only six out of ten families agreed to donation and often that's because families find it difficult to give their consent during what is understandably a very stressful time. Letting your family know your organ donation decision will make it much easier for them to support what you want.
The BBC first came to the Royal Free for advice about alcohol misuse and liver transplantation at the start of the year. I explained to the EastEnders team how and when patients with alcohol-related liver disease might come to need a transplant and when they might be put on the transplant list. I worked with our clinical director for liver transplants, Doug Thorburn, to give the EastEnders team help with their scripts and advice about transplantation generally.
We worked with the EastEnders team to ensure their hospital sets and staff uniforms looked as close to the real thing as possible and advised them on patient charts and paperwork. We've been pleased by how much they want this storyline to reflect what happens in real life – even down to the smallest details like name badges.
The liver is a hugely complicated organ which has many functions, including removing toxins from the blood, controlling the level of fat and sugar in the blood, helping process digested food, regulating hormones, producing immune cells which protect the body from infections.
There are a number of reasons why somebody might need a liver transplant and most patients have not suffered liver failure because of alcohol misuse. A patient may require a liver transplant if, like Phil, they develop liver cirrhosis. This means the liver has scarring and as a result might be unable to perform its normal functions. Sometimes cirrhosis is caused by drinking too much alcohol over a prolonged period.
Organs are allocated on the basis of clinical need and benefit and the NHS is committed to a system that is transparent and non-judgmental. If a patient requires a liver transplant because of alcohol-related liver disease, they must prove they have stopped drinking alcohol for a period before they will be placed on the transplant list. Patients are offered alcohol counselling to help them stop drinking. They are regularly assessed by our medical team and have random alcohol tests. Following a period of abstinence the liver will often improve to the point where a transplant is not required. However, if things do not improve a liver transplant will be offered - but only if we expect that the person will not drink alcohol again in the future. Our staff work to ensure the patient will look after themselves and their donated organ.
Information about liver transplants canbe found on our website www.royalfree.nhs.uk/livertransplant and you can find out more about organ donation at www.organdonation.nhs.uk