EastEnders to tackle stillbirth storyline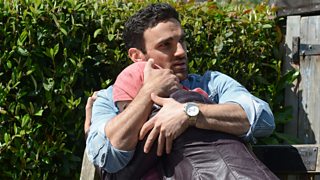 EastEnders has been working closely alongside Sands, the stillbirth and neonatal death charity, on an upcoming storyline which sees Shabnam Masood and Kush Kazemi's unborn baby die.
The storyline will follow Shabnam and Kush as they suffer the death of their baby and deal with the devastating effects this has on their lives.
Erica Stewart, Bereavement Support Services Manager at Sands, said: "Sadly, stillbirth is not rare, it's a devastating tragedy that affects thousands of people every year, from all walks of life. In the UK alone 5712 babies were stillborn or died within the first 28 days of life in 2013, shattering the lives of parents, their families and friends.
"The death of a baby is rarely talked about. Many people shy away from the issue, others have a misconception that this is a thing of the past. We hope that with a TV drama as popular as EastEnders covering this heartbreaking experience, it will help to lift the taboo, and raise awareness of all the issues that surround the death of a baby. We worked closely with the writers and actors on this storyline. We really appreciate their dedication to ensuring that they portray the impact that the death of a baby has on bereaved families as truthfully as possible. Everyone involved has approached this storyline with incredible sensitivity."
Rakhee Thakrar, who plays Shabnam, adds: "In the UK, 3628 babies were stillborn in 2013, that's one in every 216 births; a shocking fact I've come to learn during my preparation for telling this story. It is an experience that profoundly changes a person's life forever, and we feel a heavy responsibility to tell the truth of this. Our hope is that we can encourage people to talk about their experiences and their babies that have died."
EastEnders has a rich history of raising awareness of difficult issues including when Ricky and Bianca's unborn baby was diagnosed with spina bifida and hydrocephalus and they decided to terminate the pregnancy. Other recent examples include when Linda Carter was raped by Dean Wicks and Kat Moon's attempted suicide.
Sands supports anyone affected by the death of a baby, right from the early hours after the baby's death through to the weeks, months and years ahead. They work with healthcare professionals to ensure parents receive good sensitive care before they leave hospital, as the care they receive has a significant impact on their long term wellbeing.
They also support research projects to identify babies at risk and work to reduce the loss of babies' lives. Although the UK's stillbirth rate has fallen slightly in recent years, it remains unacceptably high. Sands is a national organisation, with over 100 regional support groups across the UK. They can be contacted by telephone (020 7436 5881), by email (helpline@uk-sands.org) or via their website.