Colin Russell returns to Walford tonight after a long, long absence from the show. But one of EastEnders' earliest characters, played by actor-turned-politician Michael Cashman might not be familiar to everyone. So now seems like a great time to give you the lowdown on Colin – and his place in the series' history.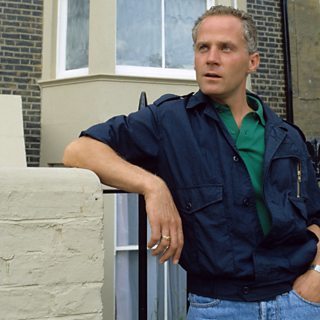 Colin first arrived in Albert Square back in August 1986, a little under six months after the show made its TV debut. A graphics designer by trade, Colin was EastEnders' first gay character. Initially keeping his sexuality private, Colin eventually went public when he fell for a much younger man - market trader and rough diamond Barry Clark (Gary Hailes).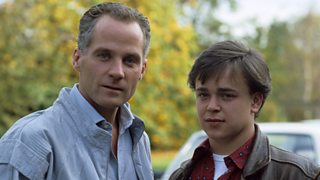 It was not long before Colin and Barry shared the iconic first ever gay kiss on a British soap opera – a peck on the forehead but nonetheless a landmark in British television. Colin and Barry's relationship didn't go down well with one particular Walford resident – with Dot reacting to it in horror and later spreading malicious rumours that Colin had contracted AIDS.
Despite being treated as a pariah by some as a result, Colin later came to Dot's defence when she struggled to deal with the revelation that her first husband, Charlie was a bigamist. Thereafter, Colin and Dot became firm friends.
Barry eventually split with Colin amid fears of trouble of his homophobic father's knowledge that they had begun dating when he was under the (then) legal age of consent. Colin's health took a turn for the worse in 1988, and, fearing that he may have contracted AIDS, sought advice from Walford GP Doctor Legg. The good doctor discovered Colin was in fact suffering from multiple sclerosis, but chose to misinform him he was anaemic for fear that the news might make things worse.
After a year in which Colin dated fellow 'yuppie' Guido Smith (Nicholas Donovan), which resulted in the first homosexual mouth-to-mouth kiss on British television in January 1989, his condition deteriorated further, prompting Doctor Legg to finally tell him the truth.
Colin was furious at the doctor's deception, but nevertheless came to terms with his diagnosis. Fearing, however, that Guido was only staying with him out of pity, Colin departed Walford in February 1989 and went to live with his brother in Bristol. But now he's back, albeit briefly.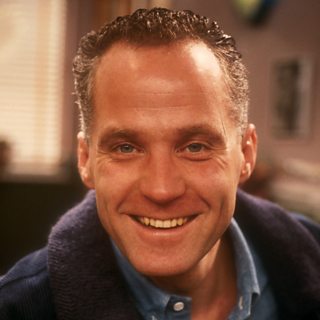 Since leaving EastEnders, Michael (now Lord) Cashman, co-founded the charity Stonewall in 1989. He was Labour's LGBT Global Envoy from 2013-16 and is a Labour peer. He was appointed CBE in 2013 for public and political service.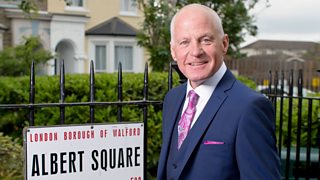 "It was a real joy, indeed a privilege, to return to my old home of Albert Square," Lord Cashman told us. "To be amongst so many friends again, and to be back in the place where 30 years ago I started an amazing journey. An amazing journey which incredibly helped to change the country, and certainly its attitude to lesbian gay and bisexual people. Arguably without EastEnders I would never have gone into politics; I would not have been one of the founders of Stonewall and its founding chair, and I would never have ended up where I am now.
"As Shakespeare would have said by returning to where it all started 'the wheel has turned full circle'", he added. "And the exquisite joy of having my scenes with the incredible 'Dame' June Brown was a bonus beyond anything else."