Meet Khali Best, who is joining the EastEnders cast as twenty year-old Dexter Hartman.
Dexter's the son of Ava, the daughter that Cora had adopted when she was younger. News of Ava's casting was revealed in September. Dexter will come searching for his new extended family in January 2013 - what will he make of what he finds?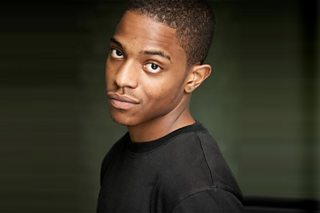 "I am delighted to be joining the cast of EastEnders," said Khali of his new role. "Working with such great actors so early in my career is an amazing opportunity. I am really excited to see what the writers have in store."
EastEnders' Executive Producer, Lorraine Newman, added: "Dexter is a force of nature: cheeky, forthright, confident but highly protective of his mum and vice versa. He'll work at the Arches and be a great mate for Jay and Lola. I am sure he'll be hugely popular with the audience."