Interview: Ricky Norwood answers fans' questions
It's only a matter of days before the red carpet's dusted off and rolled out at the O2 arena for the prestigious National Television Awards. Our fave TV stars glide into the building with timely precision.
One of those stars will be the fab Ricky Norwood, who's been nominated in the Most Popular Newcomer category for cheeky charmer Fatboy.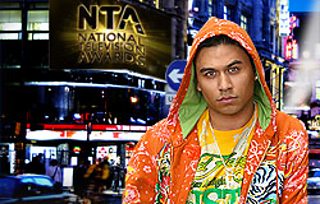 Have you nominated for Ricky yet?
After appearing in EastEnders spin-off E20, Fatboy tucked his trainers comfortably under the table in Albert Square, as his charisma's working a treat on the street.
Ahead of the NTAs on Wednesday, 26th January, we asked our Facebook fans to send in some top notch questions for Ricky to answer.
I'm going to hand the decks (erm... okay, keyboard) over to the good (and smiley) fella himself...
(Ricky takes over)
Natalie asks: What does the NTA nomination mean to you?
Hey Natalie. It's a great honour. It's like the crowning glory in the journey for me. The fact that Fatboy has been recognised by the viewers is amazing - its gobsmacking and I am thrilled.
Kim asks: I love Fats - he's ace. Good luck at the awards... do you still get starstruck?
Yeah, a little a bit definitely. Someone said that David Jason may be at the NTA's and he is an absolute legend to me. I have grown up watching him on Only Fools and Horses and other dramas he's been in, so to think he could be there on Wednesday and I could meet him is amazing.
Jayne asks: Where did Arthur's nickname 'Fatboy' come from?
This is a question that I get asked the most. So his real name is Arthur Chubb, but at school he got given the nickname Chubby, which then turned into Fatboy and he's just kept it as his nickname.
Hannah asks: Do you ever talk like Fatboy in real life?
Sometimes, yeah. I'm from the East End so bits and pieces of slang get used but probably not as much as Fatboy.
Donna asks: How did you feel when you made the jump from E20 to EastEnders?
For me to get E20 was an amazing opportunity and I was determined to work hard to get the best out of it. To then be recognised by the bosses and put in the main show was fantastic. I love being part of EastEnders and it's a great honour that they've kept me in.
Nordam asks: When will we know more about the hidden family lives of Arthur, aka Fatboy?
All I can say is keep them peeled and keep tuned in, there's lots coming up, Nordam!
Cassandra asks: Will Fatboy and Mercy ever get together?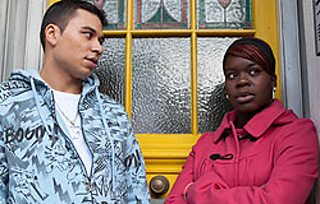 Who knows?! Fatboy always wants there to be something between them but at the same time he recognises that they're really good friends and would never want to ruin that.
I like to be surprised by the writers myself when I get the scripts and I also like the audience to be surprised, so all I can say is keep tuned in!
Jade asks: Ricky, are you as funny as your character?
Of course, lol! I do love a joke and silliness, so I like to think so ;-)
Crystal asks: If you could choose a storyline for yourself in EastEnders, what would it be? ♥
I think Fatboy should win the lottery and every woman in Walford wants a piece of him, but he has to bat them away. The total opposite of what he has now.
Susan asks: Can you sing in real life? I thought you were so funny in the Christmas choir. Lol.
No, I can't sing. If you could see fear in my eyes during that episode - that was all real!
Lisa asks: If you were to play a different character in EastEnders which one would it be?
I would have to say Phil Mitchell, as he is such a great character, but that is all down to Steve McFadden. He's an amazing actor and I've learnt so much from working with him.
Kayleigh asks: Have you been watching your former cast member Sam Attwater on Dancing on Ice?
He is doing really well! In fact, it's a shame he's doing so great, as I was going to put some money on him, but seeing as he's the favourite the odds are rubbish. I wouldn't win anything back. I wish him all the luck though Kayleigh.
Tonicka asks: Why are you so hot?
Because I am sitting next to the radiator?! Thank you, I'm glad you think that. Thanks for all your great questions!
(Lou pushes Ricky off the seat and warms herself back up).
Have you nominated for Ricky in the Most Popular Newcomer category yet? Get voting now... you have until Wednesday to show your love for the funny fella: www.nationaltvawards.com/home