Bex and Shakil: NSPCC advice on sexting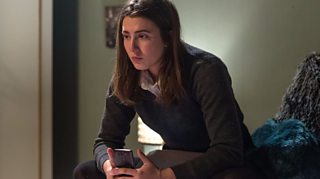 The storyline involving Bex and Shakil highlights the pressures facing young people today and is likely to have struck a nerve with parents.
Here at the NSPCC we are all too aware of the risks associated with sexting which is increasingly common among children and young people. And whilst it is very worrying that so many children are sharing explicit images of themselves we should understand that many of them treat this activity as part of everyday life.
Because they do not see sexting as a problem they may be reluctant to talk to adults about it because they are afraid of being judged or having their phones taken away. However, when something goes wrong the consequences can be devastating. Apart from exposing them to bullying when images are shared, it could make children targets for sex offenders in some cases.
ChildLine dealt with more than 1,200 concerns last year from young people worried about indecent images they'd shared, or who felt pressured into sexting. Children and young people need to understand the risks of sending these images and know what to do to get support.
It may feel awkward but, as a parent, it's important to explain to your child the risks of sexting, how to stay safe and that they can talk to you if something ever makes them feel scared or uncomfortable.
Think about the best way of starting the conversation: You know your child best and your approach should be based on your child and your parenting style.
Explain the risks of sexting: Tell your child what can happen when things go wrong. Don't accuse your child of 'sexting', but do explain the dangers.
Reassure your child you will be supportive and understanding: Let your child know that you are always there for support if they feel pressured by anyone.
What to do if your child has been affected by sexting
We understand that finding out your child has been affected by sexting can be very distressing. How you react to the situation may influence whether your child will open up to you in the future.
Stay Calm: If your child has been sending explicit images or videos of themselves, they are likely to be anxious about talking to you. Reassure your child that they are not alone and that you will do all you can do to help
Report it: It's important to find out who your child shared the image or video with. You can use our website to signpost you towards the correct way to report it. Regardless of the situation you should inform your child's school. They can keep an eye on the situation and help stop images or videos being circulated. The school can also offer support to your child and any other children that have been affected.
Make sure your child is supported: We know that young people often feel pressured into sexting. This can cause a child great emotional distress and can sometimes lead to them self-harming or being bullied.
Tell your child they can contact ChildLine at any time if they want to talk to someone about how they are feeling. ChildLine counsellors are used to talking to children about sexting and can give non-judgemental advice and support. ChildLine has also produced a free app for young people called Zipit, which is designed to provide them with witty images to send in response to a request for explicit images, and advice on how to stay safe. If a child has lost control of a sexual image, they can speak to ChildLine who will work with the Internet Watch Foundation (IWF) to get the image removed.
ChildLine offers support and advice for young people on any problem and is completely free and confidential.
For parents there is advice on the NSPCC website and through our helpline – 0808 800 5000. Teachers can download the Sexting in Schools toolkit produced by CEOP.