Dot's Story: Working with RNIB on wet age - related macular degeneration (AMD)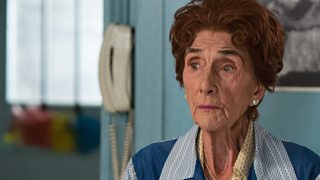 Dot Branning's frightening and isolating experience of being diagnosed with wet age-related macular degeneration (AMD) is one we at Royal National Institute of Blind People (RNIB) know all too well.
According to NHS figures, at least 1 in 10 people over 65 are living with AMD. At RNIB we hear from worried older people who have been diagnosed with this eye condition on a daily basis, concerned about what it means for their life and what support is available. This is what makes Dot's story so believable and why we are supporting EastEnders to portray her experiences realistically and sensitively.
At the beginning of the year EastEnders approached RNIB with its plans to run a storyline about Dot's sight deteriorating. In August we began working closely with EastEnders' researchers and writers as they explored and developed the storyline about Dot being diagnosed with wet AMD and what this could mean for her life in Albert Square.
Since then we have offered the programme script advice, information about treatment options for people with wet AMD, and checked facts. RNIB will continue to work with EastEnders as Dot's story develops over the coming months as she adapts to living with her sight loss.
EastEnders has made a real commitment to getting Dot's story right, while also raising awareness of a condition that affects more than 600,000 people to some degree in the UK.
Understanding AMD
AMD is an eye condition that affects a tiny part of the retina at the back of your eye called the macula. The macular contains a few million specialised photoreceptor cells called cone cells. AMD causes problems with your central vision, but it doesn't lead to total loss of sight and isn't painful.
The symptoms of AMD include:
Difficulty reading small print, even with your glasses on
Vision has a small blurred area in the very centre
Straight lines start to look wavy or distorted
Your vision is not as clear as it used to be
If you notice any changes like this have your eye examined by an optometrist (an optician). If your optometrist thinks you have AMD he or she will refer you to an ophthalmologist (a hospital eye doctor) for further tests and examinations.
If your sight suddenly changes in a short period of time then go to the Accident and Emergency department at your nearest hospital.
Wet vs dry AMD
There are two different types of AMD: wet AMD and dry AMD. Wet AMD can develop very quickly, causing serious changes to your central vision in a short period of time. Like Dot's has, wet AMD can unexpectedly develop over a few days or weeks.
Wet AMD develops when the cells of the macula stop working correctly and the body starts growing new blood vessels to fix the problem. These new blood vessels cause swelling and bleeding underneath the macula which can lead to scarring. The new blood vessels and the scarring damage your central vision and may lead to a blank patch in the centre of your sight.
Only 10 per cent of people with AMD have wet AMD, which is treatable if detected early. The remainder have dry AMD, which develops very slowly and causes changes in your central vision. At its worst, dry AMD causes a blank patch in the centre of your vision. There is currently no treatment for dry AMD.
Treatment for wet AMD
The NHS treatment available for wet AMD is via a group of medications called anti-vascular endothelial growth factor drugs (anti-VEGF drugs). Anti-VEGF drugs work by stopping new blood vessels from growing, preventing further damage to your sight. The medicine is injected in to the vitreous, the gel-like substance inside the eye.
Getting your wet AMD detected and diagnosed quickly is important because the treatment is better at stopping sight getting worse than it is at restoring vision. Having the treatment as early as possible can help you keep as much vision as possible.
Support
RNIB knows how important it is for older people like Dot to look after their eyes. We recommend people have an eye test every two years, which is free for people aged 60 and over.
Older people with sight loss are almost three times more likely to experience depression than people with good vision. Although there is no cure for wet AMD, people who have the condition can continue to live independently with the right treatment and support. This is why we provide a range of information, services, products, and in-depth advice and support for people with or at risk of experiencing sight loss, including wet and dry AMD.
For more information please visit www.rnib.org.uk/eye-health/dots-amd-story-eastenders
Call RNIB's Helpline from Monday to Friday 8.45am to 5.30pm and Saturday 9.30am to 4pm: 0303 123 9999
Or email: helpline@rnib.org.uk