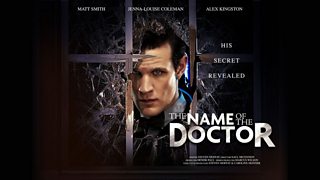 The title of the series finale has been revealed and is the hugely intriguing: The Name of the Doctor.
The 'poster' for the series' final adventure (above) was unveiled today and it also confirms that Alex Kingston is back, joining Matt Smith and Jenna-Louise Coleman for what promises to be a jaw-dropping end to a spectacular series.
But we're not there, yet! We've still to unravel the mystery of Clara – the woman 'twice killed' and yet still by the Doctor's side… What secrets does she hold? And in the weeks ahead we've a trip to a haunted house, a journey to the centre of the TARDIS and a nightmare clash with the mighty Cybermen. But after all those adventures we have The Name of the Doctor and stand by for something that you might always have believed to be impossible…
You can see all the posters for the final four episodes of the series in our latest gallery and Doctor Who continues tomorrow at 6.45pm on BBC One with Hide.