Series 9: Everything You Need To Know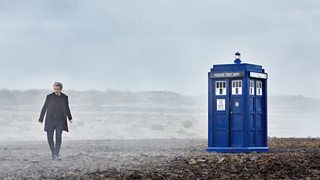 The new series of Doctor Who begins Saturday, 19 September and sees the return of the Doctor (Peter Capaldi) and Clara (Jenna Coleman). The 12 episode run contains a number of two-parters and is executive produced by showrunner Steven Moffat and Brian Minchin.
Check out the new trailer and unlock its secrets…
These new stories see the Doctor and Clara having the best time as they continue their travels. As Peter Capaldi commented, 'They've suddenly realised that they are the most fortunate people in all of time and space and are hell-bent on adventure.' As for the Doctor, Peter revealed, 'He's in pursuit of joy and grabbing every thrill that he can along the way. But I sense him running from something, that even he does not yet understand…'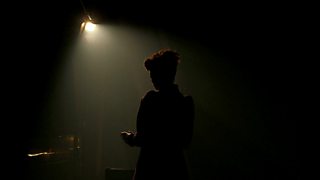 Episodes 1 and 2: The Magician's Apprentice / The Witch's Familiar
Written by Steven Moffat
Directed by Hettie Macdonald
Produced by Peter Bennett
Guest cast: Michelle Gomez as Missy, Jemma Redgrave as Kate, Kelly Hunter, Clare Higgins, Jaye Griffiths, Harki Bhambra, Daniel Hoffmann-Gill, Joey Price, Aaron Neil, India Ria Amarteifio, Dasharn Anderson, Demi Papaminas, Jami Reid-Quarrell, Benjamin Cawley, Stefan Adegbola, Shin-Fei Chen, Lucy Newman-Williams, Barnaby Edwards, Nicholas Pegg, Jonathon Ojinnaka.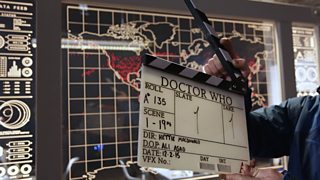 It's the return of Missy, as Steven Moffat has teased, 'Everybody hide - Michelle Gomez as Missy was an instant hit last year, so she's straight back to plague the Doctor and Clara in the series opener. But what brings her back into their lives is the last thing they'd expect…' Michelle Gomez announces her return in style in this video:
The adventure was the second story to be filmed and included a location shoot in Tenerife. You can take a sneak peek at the overseas action here:
We also have the following description of the opening episode:
Where is the Doctor? When the skies of Earth are frozen by a mysterious alien force, Clara needs her friend. But where is the Doctor, and what is he hiding from? As past deeds come back to haunt him, old enemies will come face-to-face, and for the Doctor and Clara survival seems impossible…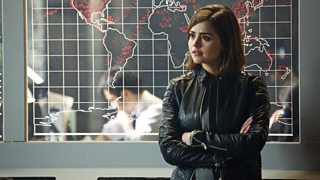 In addition, we have a slight insight into The Witch's Familiar with the following release:
Trapped and alone in a terrifying Dalek city, the Doctor is at the heart of an evil Empire; no sonic, no TARDIS, nobody to help. With his greatest temptation before him, can the Doctor resist? And will there be mercy?
And the following photographs are from The Magician's Apprentice… Intriguing!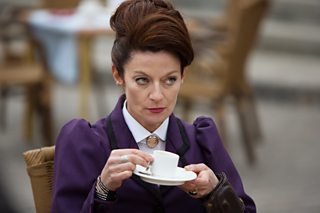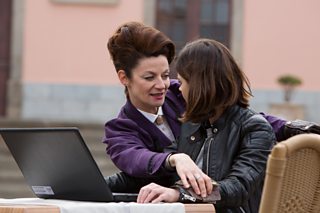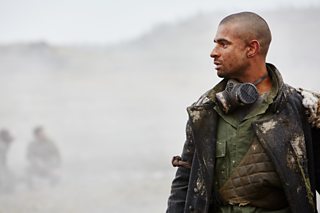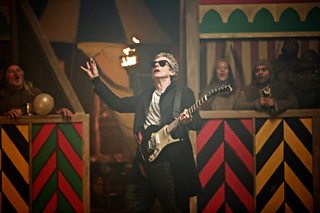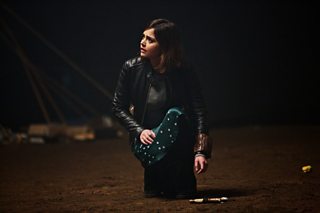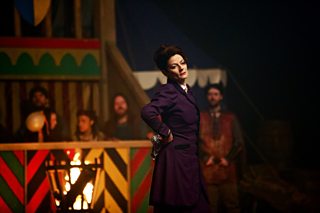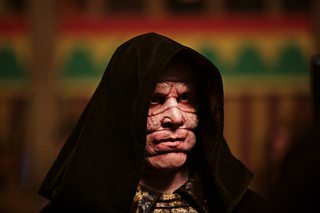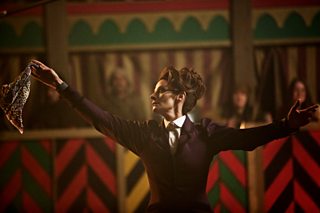 Episodes 3 and 4: Under The Lake / Before The Flood
Written by Toby Whithouse
Directed by Daniel O'Hara
Produced by Derek Ritchie
Guest cast includes Paul Kaye, Morven Christie, Arsher Ali, Colin McFarlane, Sophie Stone, Zaqi Ismail, Steven Robertson and Neil Fingleton.
Toby Whithouse has written some of the show's most memorable episodes including School Reunion, The Vampires of Venice and The God Complex but his first two-parter may be his most chilling story to date. Steven Moffat called it 'brilliantly creepy… one of our scariest adventures yet!'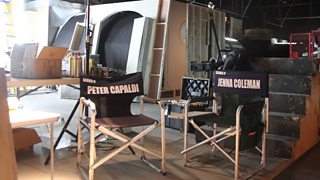 Paul Kaye (Game of Thrones) makes his Doctor Who debut and enthused, 'As a kid of the 1970s, the two shows you always watched were Top of the Pops and Doctor Who, they were unmissable… I got to present TOTP back in the mid '90s and landing this role in Doctor Who completes the dream double.'
Filming on the adventure began in early January, 2015 and it was the first of the new series to be shot.
Episode 5: The Girl Who Died
Written by Jamie Mathieson and Steven Moffat
Directed by Ed Bazalgette
Produced by Derek Ritchie
Guest cast includes Maisie Williams.
Maisie Williams is best-known for playing Arya Stark in Game of Thrones and is a three-time Screen Actors Guild Awards nominee. On her first day on set she told us, 'I'm so excited to be working on Doctor Who as it's such a big and important part of British culture.' But who is she playing in Doctor Who?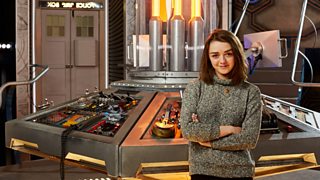 Steven Moffat remained tight-lipped. 'It's not possible to say too much about who or what she's playing, but she is going to challenge the Doctor in very unexpected ways.' He added, 'This time he might just be out of his depth, and we know Maisie is going to give him exactly the right sort of hell.'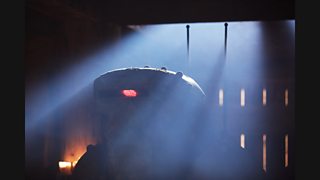 The episode is co-written by Steven Moffat and Jamie Mathieson, who previously penned Mummy on the Orient Express and Flatline. Along with episode 6 (see below) this formed the third filming block, meaning the fifth and sixth episodes were shot sequentially. It's therefore uncertain whether the monsters glimpsed above and immediately below will appear in The Girl Who Died, the following adventure or both!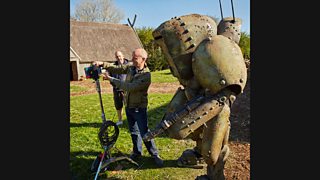 Episode 6: The Woman Who Lived
Written by Catherine Tregenna
Directed by Ed Bazalgette
Produced by Derek Ritchie
Guest cast includes Rufus Hound as Sam Swift.
Although we know very little about Sam Swift, we're hoping that Rufus didn't shave off this magnificent beard when it came to the shoot! He was delighted to appear in the show, admitting he was 'pretty ruddy happy' moments after the read-through for his episode. You can see the full interview in the video below.
It's Catherine Tregenna's first script for Doctor Who but fans may remember her four episodes of Torchwood - Out of Time, Captain Jack Harkness, Meat and Adam.
Episodes 7 and 8: The Zygon Invasion / The Zygon Inversion
Written by Peter Harness
Directed by Daniel Nettheim
Produced by Peter Bennett
Guest cast includes Jemma Redgrave, Ingrid Oliver, Jaye Griffiths, Rebecca Front, Cleopatra Dickens, Sasha Dickens, Abhishek Singh, Todd Kramer, Jill Winternitz, Nicholas Asbury, Jack Parker, Aidan Cook… and the Zygons!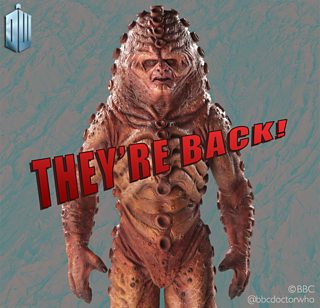 Ingrid Oliver returns as Osgood? Hurrah! Wait a minute… Wasn't she killed by Missy in Death in Heaven? Even Ingrid had been fooled… 'I was so sure Osgood was a goner after the last series!' she revealed, 'As every actor who's worked on Doctor Who will tell you, there's always the secret hope you'll get the call asking you to come back. To actually receive that call is both unexpected and brilliant. The word 'honour' gets banded about a lot, but it really is, it's an honour.' You can see Ingrid talking (and dancing) about her return in the videos below…
Jemma Redgrave revealed Kate was back in this video…
The BAFTA winning Rebecca Front also joins the guest cast for the adventure and when the news broke about her involvement she tweeted, 'Work with Peter Capaldi again? In Doctor Who? Hell yeah...'
And finally, last seen in The Day of the Doctor, the Zygons will be crossing the Time Lord's path again in this two-parter which is written by Peter Harness (Kill the Moon).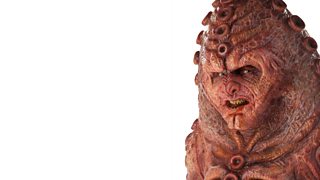 Episode 9: Sleep No More
Written by Mark Gatiss
Directed by Justin Molotnikov
Produced by Nikki Wilson
Guest cast includes Reece Shearsmith, Elaine Tan, Neet Mohan, Bethany Black and Paul Courtenay Hyu.
The adventure features Reece Shearsmith whose involvement was announced 5th August, 2015. On his first day in Cardiff for the episode, we shot this interview with the actor, comedian and award-winning writer…
Reece also commented, 'I am absolutely thrilled to be filming Doctor Who as Mark Gatiss has written a fantastic role for me in a very scary episode. It has been so exciting to be part of a very singular episode - which, I can say with authority will be unlike any previous episode of Doctor Who. It's a joy to play a part in the show - certainly a badge of honour.'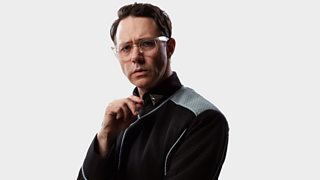 The adventure also features Neet Mohan, Bethany Black, Paul Courtenay Hyu and Elaine Tan, pictured here during her time on Eastenders…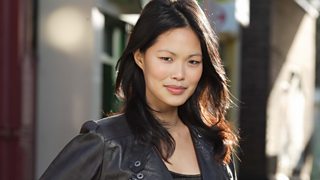 It's written by Mark Gatiss, a Doctor Who veteran of whose previous work include The Unquiet Dead, The Idiot's Lantern, Victory of the Daleks, Night Terrors, Cold War, The Crimson Horror and Robot of Sherwood. He revealed the episode had 'been brewing in the dark recesses of my mind for a while now!' adding, 'I'm also chuffed to bits to finally welcome my old friend Reece Shearsmith onto the show. He's been badgering me for ten years!' Mark (pictured below with Reece) has also featured in a number of stories, most notably The Lazarus Experiment in 2007.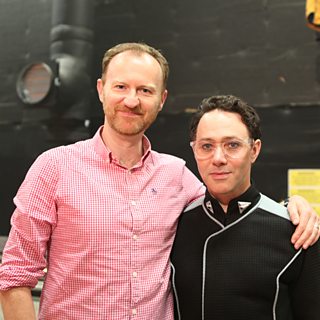 Episode 10: Face The Raven
Written by Sarah Dollard
Directed by Justin Molotnikov
Produced by Nikki Wilson
Guest cast includes Joivan Wade as Rigsy.
The episode sees the return of Joivan Wade as Rigsy, the young graffiti artist who helped save the world in Flatline. After finishing filming for the episode, Joivan tweeted, 'And that's a Wrap! On @bbcdoctorwho episode 10! I've had an amazing time! Can't wait for the series!'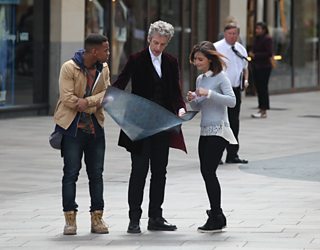 The episode is written by Sarah Dollard who admitted, 'Getting to play in the Doctor Who toy box is a dream come true. It's a total honour to contribute to a show that has brought me such joy as a fan. However, writing for Peter Capaldi and Jenna Coleman has presented a serious problem: some days I've been too excited to actually sit down and type!' You can see a brief interview with Sarah below:
Episodes 11 and 12: Heaven Sent / Hell Bent
Written by Steven Moffat
Directed by Rachel Talalay
Produced by Peter Bennett
Details for the big finale are sparse at the moment and although writer Steven Moffat has promised us a very special cliff-hanger for episode 11, he wouldn't be drawn on any plot points.
We know that Rachel Talalay, who helmed last year's Dark Water/Death in Heaven, is back in the director's chair. 'These episodes are completely different to what I did last year…' she told us. 'Episode 11 is one of the most complicated and different episodes I've ever done… It just has my head in spaghetti!' Hear more in the interview below…
So, the new series is edging closer and it promises to be extraordinary. 'There is an epic sweep to this season and I think the villains and monsters reflect that,' Peter Capaldi observed. 'Great new ones, brilliant old ones, and some very scary creatures looming in stories with real emotional ambition.'
Series 9 will be a hell of a journey… The Doctor and Clara are out for adventure in episodes mixing drama, humour, excitement and enchantment. Frankly, we can't wait for The Magician's Apprentice to cast its spell.