Deep Breath: More Information Emerges...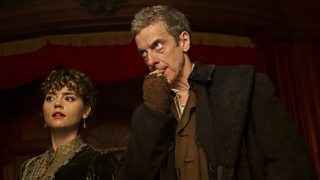 Before any new episode of Doctor Who we release a short synopsis which gives an idea of what will be happening in the adventure…
For Deep Breath, the official synopsis reads, 'When the Doctor arrives in Victorian London he finds a dinosaur rampant in the Thames and a spate of deadly spontaneous combustions. Who is the new Doctor and will Clara's friendship survive as they embark on a terrifying mission into the heart of an alien conspiracy? The Doctor has changed. It's time you knew him.'
Of course, you'll be able to watch the whole thing when Doctor Who returns to BBC One on Saturday, 23 August, or you can visit a gallery of images for the episode now!