Ten Reasons why we can't wait for episode 2…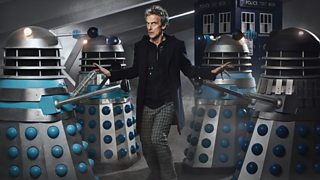 The Witch's Familiar is on BBC One on Saturday at 7.45pm. Here are a few reasons we can't wait for it!
WILL HE DO IT???
The last time we saw the Doctor he was on the ancient battlefields of Skaro, Dalek-gun in hand and a very nervous young Davros in front of him. The fact that the Doctor has just barked, 'Exterminate!' can't have done the kid's nerves any favours…
We want to find out what's happened to Clara...
She can't be dead! Can she? Well, we've seen her in trailers for the series and she certainly looked alive but on a show as timey-wimey as Doctor Who you can take NOTHING for granted!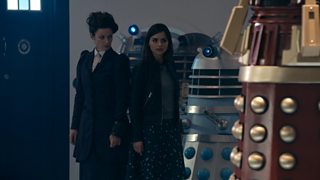 That Doctor/Davros face-off…
We know the ep is ramping up to a big Doctor/Davros confrontation and judging by the clip below it's going to be emotional…
Dalektastic action!
The Daleks are out in force and oh my (Time) Lord there's a real mix of the little monsters with even the Special Weapons making an appearance! After the episode finishes we'll be asking you to vote for your fave so get ready to select your number one Dalek!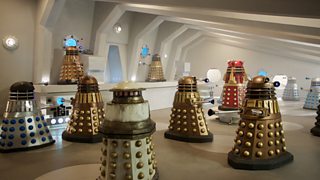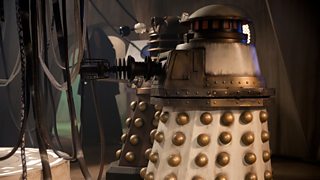 What's Davros up to?
That's not really been explained yet, has it? Or did he REALLY just fancy a chat with the Doctor?
Missy!
Again, we guess she must have survived. I mean, dying is very much for other people, but we'd like to know how she got out of being exterminated? Any ideas? Maybe 'apparently' getting killed was all part of her Master plan?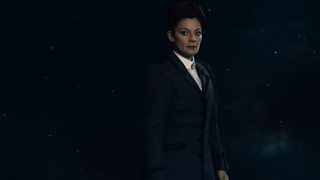 The Next Time bit
Are we allowed to admit this? That the moment one episode finishes we LOVE the sneak peek of the following adventure. We're really looking forward to ep 3 - Under the Lake - and want to learn more about this dude…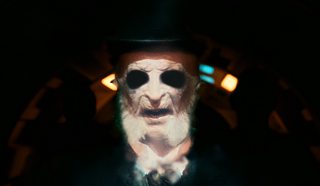 Time Flight (of Stairs)
Talking of 'Next Time' trailers we love this look ahead and we're mad to know what's happening on the stairs… Why's the Doctor wearing a different costume? Who's shooting him? How does he get out of this scrape? Possibly by making his escape one step at a time. (Ouch. Sorry).
Colony Sarff
Colony Sarff is one of those monsters that we instantly liked/hated and we're curious to know if old snake face will play in any part in Davros' machinations. We asked him what his 'dark lord' was up to, but he wouldn't tell. In fact, he made no bones about it - he's not a Grass Snake.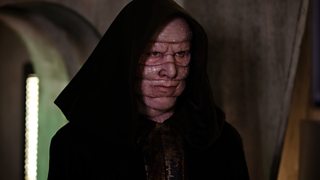 It's an episode of Doctor Who!
Okay, we admit it. We always look forward to EVERY episode of Doctor Who. So maybe ignore the above. There's a new episode of Doctor Who? Hey, we're in. Anyone who phones us for the 50 minutes following 7.45pm on Saturday, well, let's just say THEY WILL BE EXTERMINATED!!!