Michael Pickwoad (1945 - 2018)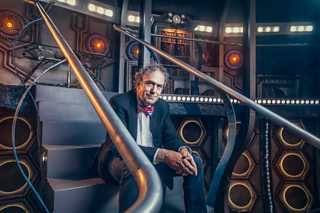 (Photo Credit: Antti Karppinen)
We are sad to report that Production Designer Michael Pickwoad has died at the age of 73.
A highly respected, BAFTA-nominated Production Designer, Michael joined the Doctor Who team back in 2010, taking over from Edward Thomas and marking the first new Production Designer since 'Rose'. Throughout his time on the show he worked across five series, eight Christmas Specials and the 50th Special; making 71 episodes in total. His unique artistic style was felt from his very first episode, the Dickens' inspired Christmas Special: A Christmas Carol, all the way through Peter Capaldi's final episode in 2017.
Steven Moffat, who worked with Michael during his time as Production Designer has said:
"The first time I met Michael Pickwoad properly, I laughed, and you probably would have too. We were both heading to Michael's first Doctor Who tone meeting, and he'd arrived wearing a tweed jacket and a bow tie. "In costume, I see!" I said. He gave me a bemused smile (I'd get very used to that smile) and we went into a dull white room and discussed flying sharks and cryo-pods for the Doctor Who Christmas special. Some time during the meeting, it occurred to me that Michael hadn't understood why I'd laughed, and the more I listened to him talking the clearer it became that he wasn't in costume at all: I was dealing with a designer who dressed exactly like Doctor Who by accident. Clearly, this man was born for this show. I've never been more right.
It wasn't just the outfit either. Never have I met a man with such fund of knowledge, about … well, everything. Literally everything. If there's a university somewhere that confers degrees in Everything, then that's the one Michael got. Every tone meeting, without exception, yet another nugget of learning would emerge. He was never showing off, of course, never parading his learning - just off-handedly mentioning another arcane branch of knowledge he happened to have mastered. Submarines! Roman Centurians! The interior stairs of large chimneys over history (no, really.) Once, during the Tone for The Magician's Apprentice, he looked up from the script with that gentle frown which meant he had a question. It was the scene where Peter Capaldi's Doctor rolled into a castle courtyard on a tank, playing an electric guitar. Now, you might think he was worried about creating an entire castle courtyard for what was, in all honesty, one gag, but no. His question was: "Are you sure you mean a Centurian tank? They're the trickiest to drive."
"How many lives has he led? I asked Brian Minchin, my co-exec, as we left the meeting.
I'm still learning from him this morning, as I type this. I looked up some old interviews with him, and found this gem: "A production designer should think like a director and behave like a producer." Well that's it exactly, of course - a typical piece of Pickwoad wisdom (I imagine his next sentence would have been about the correcting weighting of duelling pistols, or which sea has the most fish.) He had exquisite visual sense, of course, but like a director he always saw everything through the lens. It didn't matter how it looked in the studio, it mattered how it looked on the screen. He nailed that every time. And yes, he behaved like a producer. Doctor Who never had the movie-scale budget it needed, and our secret weapon for hiding that was Michael Pickwoad. In no time flat, with next to no money, he gave us arctic vistas, Viking villages, the sheriff of Nottingham's castle, any number of spaceships, the best submarine I've ever seen on screen and the finest ever version of the TARDIS control room. And through it all, he was kind, and courteous, and funny.
The only downside of great men, is that they make terrible losses, and we've lost Michael far too soon. He was a genius and a gentleman and we will all miss him. Looking back on all those mad, happy years, I think he was right to wear that tweed jacket and bow tie. More than that, he was entitled. If Doctor Who had been a designer, instead of a rebel Time Lord, she'd have been Michael Pickwoad."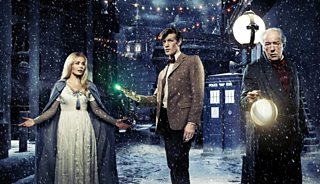 Doctor Who fans will remember Michael as the man who designed the Eleventh (and Twelfth!) Doctor's TARDIS.
Doctor Who Showrunner, Chris Chibnall, has said:
"Everyone at Doctor Who is incredibly saddened to learn that Michael Pickwoad has died. His contribution to the show during Matt Smith and Peter Capaldi's era was immense and varied, conjuring up distant galaxies and historical eras - as well as an iconic TARDIS interior - with equal brilliance. He was a beloved member of the Doctor Who team and we send our sympathy and love to his family."
Before joining the Doctor Who team. Michael had a long and established career. He studied BSc Civil and Environmental Engineering, in 1967 at Southampton University, but subsequently decided to turn his attention to film design. His career on Doctor Who seemed destined as his father William Mervyn (Pickwoad), acted in Doctor Who (The War Machines) with William Hartnell, who played the first doctor.
His varied career includes classic British films such as Withnail & I, the Krays and shows including, Poirot, The Prisoner, Marple, Lost in Austen and more recently Russell T. Davies' A Midsummer Night's Dream and Doctor Who spin-off, Class.
Michael's effect on the show will always be remembered and everyone from the Doctor Who family will miss him.