The Name of the Doctor: Saturday at 7pm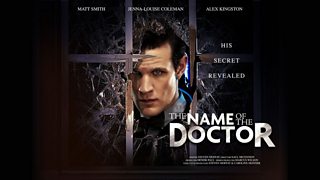 We've followed the Doctor and Clara as they've faced the Great Intelligence, an Ice Warrior, an army of Cybermen and even Angie Maitland. But the current series of adventures reaches a jaw-dropping finale with The Name of the Doctor, tomorrow (Saturday) at 7pm on BBC One.
The episode features the return of River Song, Vastra, Jenny, Strax and introduces the deadly Whisper Men… Someone is kidnapping the Doctor's friends, leading the Time Lord toward the one place in all of time and space that he should never go. It's a deadly trap that threatens to unravel his past, present and future… can the Doctor save his friends –and himself – before it's too late?
Straight after the episode we'll have some incredible extra content on the site including some very special videos, exclusive galleries and the latest quiz that tests your knowledge of The Name of the Doctor.
But if you can't wait for the finale, don't worry! You'll find the latest Doctor Who trailers, an introduction to tomorrow's episode and much more in the clips section. There's also a gallery of images from the adventure and you can bring yourself up-to-date on the Doctor's friends and even watch Strax's latest field report which covers tomorrow's episode!
The Name of the Doctor begins tomorrow (Saturday) at 7pm on BBC One.