Kid's 'Colouring In' packs!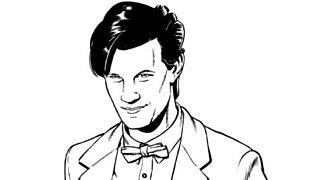 Ready to be coloured in
Stuck for stuff to do over the Easter Holidays? Then grab our brand new Colouring In packs! Pick from either the Monster Pack (featuring a selection of your favourite aliens) or choose instead to bring the Doctor, Amy and Rory to life in our special Heroes pack.
Just in case that isn't enough we've just added all our Doctor Who masks, posters, stories, games and much more to the Fun and Games section of the site. So if you need a Doctor Who fix, why not download a few masks and invite some friends around to play Doctor in the House or just relax into the holidays with a great story.
And don't forget, you can catch up with The Doctor's Daughter at 7:00 pm Saturday 6th on BBC Three - and you can watch Dreamland any time over the Easter break!