Christmas Special Read Through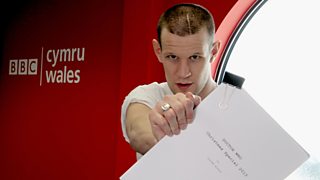 He's back! Here's a photo of Matt Smith taken earlier today (4 September) just after the read through for the Christmas Special.
Matt was in brilliant form at the read through for this year's Christmas Special, written by Steven Moffat. In fact, seeing him back in action as the Doctor made us want to fast forward to November to see the eagerly awaited 50th anniversary special!
As we've previously reported, after four incredible years aboard the TARDIS, the Christmas episode will be Matt's swansong as the Time Lord. Lead writer and executive producer Steven Moffat has previously commented on Matt's departure, telling us, '…great actors always know when it's time for the curtain call, so this Christmas prepare for your hearts to break, as we say goodbye to number Eleven.'
But there's a lot more to come before Matt bows out…
The Doctor is back on BBC One on 23 November for the 50th anniversary special before returning for the momentous Christmas adventure.