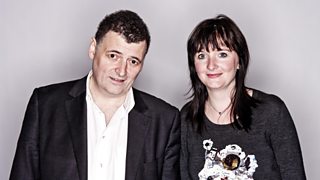 Steven Moffat and Caro Skinner
Many thanks for all your questions for Doctor Who's Executive Producers. We put a number of them to Steven Moffat and Caro Skinner on Tuesday on the run up to the Asylum of the Daleks premiere and we'll be bringing you a video featuring several of their replies early next week.
However, over the course of Tuesday, Steven and Caro did provide answers to some of the most popular questions and we can bring you their responses now.
Quite naturally, a lot of people want to know when Asylum of the Daleks will be broadcast. The answer, given on Tuesday was 'soon'. No transmission date has been absolutely confirmed as yet, but as Steven Moffat commented, 'We wouldn't be doing the press launch if it wasn't soon.' The moment a date has been confirmed for the new series, we'll let you know!
Another popular question was how many adventures are in the pipeline and Steven and Caro confirmed that we'll have five episodes starting later this year: Asylum of the Daleks, Dinosaurs on a Spaceship, A Town Called Mercy, The Power of Three and The Angels Take Manhattan. Amy and Rory bow out in the last of these and we meet the Doctor's new companion, played by Jenna-Louise Coleman, in the Christmas Special. After a break, there will be a further eight episodes in 2013 plus a drama about the genesis of Doctor Who: An Adventure in Space and Time, written by Mark Gatiss.
Many people wanted to know what else was planned for 50th anniversary but Steven and Caro were remaining tight-lipped about this at the moment!
Finally, we received dozens of emails asking what will happen when the Doctor has regenerated twelve times… would that be the end for the Time Lord? Steven has fielded this question before but if you're worried it will be a case of thirteen and out, he re-iterated that the show's producers would invoke what he termed 'the emergency protocol.' And what would that be? Steven smiled. 'We'd make something up!' he replied.
We'll be bringing you a video featuring Steven and Caro answering your questions early next week!