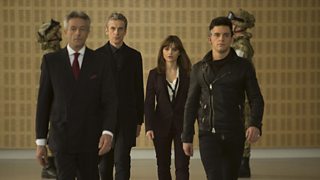 All the great Heist movies have a blend of humour, action, ingenuity and a certain audacity of style. The very best ones have you rooting for the rogues attempting the job, and Time Heist, written by Steve Thompson and Steven Moffat, is no different.
Except it is different, of course, because it's Doctor Who! And so the bank in question is the most dangerous bank in the universe, one of the security problems is a terrifyingly powerful alien called the Teller and naturally, we have the Doctor himself at the heart of the action. It's an irresistible combination and Douglas Mackinnon, director of last week's beautiful episode, Listen, handles the adventure with wit and verve. A self-confessed fan of the heist genre, he ensures the episode is a hugely enjoyable fusion of Who meets heist.
The brilliant Keeley Hawes plays the mysterious Ms Delphox and is joined by Jonathan Bailey as Psi and Pippa Bennett-Warner as a shape-shifter called Saibra.
Time Heist is on BBC One on Saturday at 7.30pm but you can watch the episode being introduced by Peter Capaldi, Jenna Coleman and Steven Moffat now!