Thanks to the fandom... A Whovian welcome for Pearl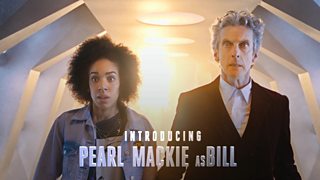 The reveal of Pearl Mackie as the new companion has been our most popular and most shared video content on Twitter and Facebook in the whole of Doctor Who history! OK, Twitter and Facebook weren't around for Classic Who but who knows with timey wimey, parallel universes and all that...
And for making it such a special moment, celebrated across the world and Whoniverse, the Doctor Who team would like to say two special words to all the wonderful fans...
THANK YOU!
It was amazing to see fans come together and welcome Pearl to the wonderful world of Who. When the time came for the reveal, the moment was watched on screens and devices around the world and the exclusive new scene Friend from the Future was viewed a staggering 2.7 million times on Facebook alone, making it the most popular video ever on the Doctor Who Facebook page!
So why not sit back and enjoy it one more time... THANK YOU to Whovians everywhere for being the best fandom in the universe and welcome aboard to the amazing Pearl Mackie!