Why Maisie Williams is Perfect for Doctor Who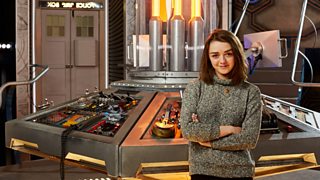 The announcement that Maisie Williams would be guest starring in Doctor Who triggered street parties, one-off public holidays and the spontaneous combustion of at least 17 fans around the world. Okay. Not really. But almost. And it's fair to say people were excited in a big way which is totally understandable as we were, too. So, ahead of her debut with the Doctor (Saturday, 8.20pm on BBC One since you ask) here are 8 reasons we reckon Maisie Williams is perfect for Doctor Who…
Chemistry with Capaldi
Maisie guest stars in the next two episodes so it's no surprise she gets a lot of screen time with the Doctor. And it just works. 'She's a fantastical contrast to Peter (Capaldi)!' Steven Moffat told us. 'All of entertainment is bound by the two of them and they work beautifully together.'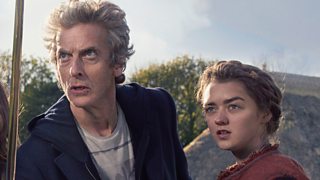 Cheeky, Feisty and Fun!
Doctor Who has a long tradition of strong female characters who challenge the Doctor and it's crystal clear that Maisie Williams can pull that off to perfection. Check out the moment at the end of the trailer below. Normally you'd need to operate on the Doctor's vocal chords to render him speechless but Maisie's character manages it with a simple reveal and a single line. See what we mean?
Charismaisie.
She's charismatic without even trying. We're calling that charismaisie.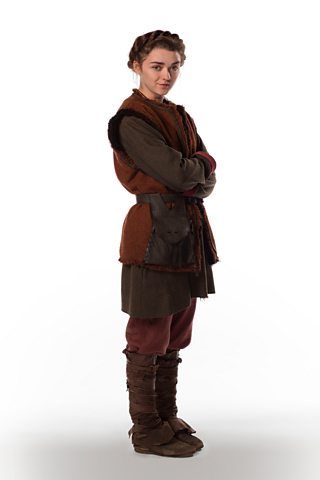 Game On
We reached the fifth paragraph before mentioning Game of Thrones. Do we win a prize? As the never-say-die Arya Stark, Maisie has got plenty of experience when it comes to sword play, screen fights and all the other stuff she's been doing in GoT since 2011. Perfect preparation for an episode about a Viking village having to defend itself against space warriors, we'd have thought.
Crossing fandoms
It's fair to say that Doctor Who and Game of Thrones both have huge and fabulous fan bases right around the world. And crossing fan bases is like Ghostbusters crossing streams. It's a little daunting but the results are spectacular. Or as Maisie put it, 'When you cross over to a different geeky, fandom world, everyone was like: THIS IS INSANE! So, it was such a nice buzz!'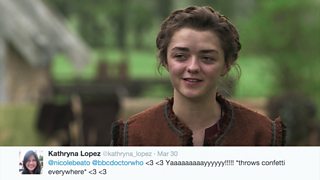 Maisie Keeping Mum
There's been a TARDIS-full of speculation about the character Maisie will be playing and what her connection with the Time Lord might be. Luckily, after years of keeping secrets on Game of Thrones Maisie has let nothing slip meaning we're all going to have to watch her eps to uncover the truth…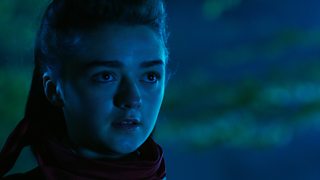 The Extraordinary Ms Williams
She may be best known for Game of Thrones but she also starred in The Secret of Crickley Hall (see the pic below!) and it was her performance in Cyberbully that caught the attention of Doctor Who's executive producer, Brian Minchin. 'She was captivating [in Cyberbully]!' he explained. 'If someone can take 80 minutes of screen time, tell a story like that and take you with them… That's extraordinary!'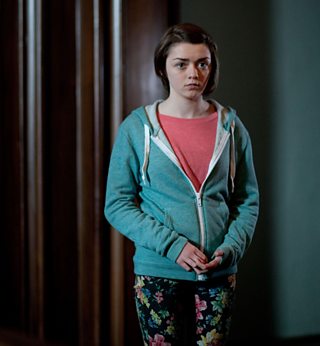 Loving it!
Maisie clearly loved appearing in Doctor Who and that sense of enjoyment virtually reaches out of the screen and ruffles your hair. 'It's been really exciting working on it [Doctor Who],' she told us. 'And I'm glad to be a part of it now!'
Maisie Williams is in The Girl Who Died which starts on BBC One on Saturday at 8.20pm.