The Husbands of River Song: The World Premiere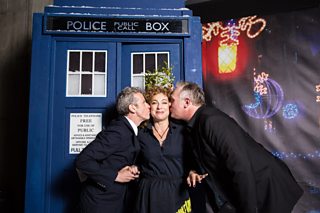 The Husbands of River Song received its world premiere yesterday (16 December) at the British Film Institute in London.
There were two screenings of the Christmas Special, including an afternoon event where hundreds of delighted schoolchildren watched the adventure before anyone else! And appropriately enough, the TARDIS even landed in the BFI foyer, giving many visitors the perfect opportunity to grab a selfie with the world's most iconic time machine!
The evening screening was followed by a Q&A with Peter Capaldi, Alex Kingston, Greg Davies and Steven Moffat, hosted by Jo Whiley. The panel was on top form, relishing the chance to answer a few mischievous questions from the audience. When someone reeled off all the actors that had played the Time Lord since 2005 and then asked Steven Moffat who his favourite Doctor was, the showrunner replied without missing a beat, 'Doctor Who!' And when Alex Kingston was quizzed as to whether she'd be the 'new assistant', she declared, 'I'm NOT an assistant… I'm a wife!'
Alex also spoke about her character's attitude in her latest adventure, revealing, 'I don't think River has changed. She's absolutely her own person! But sometimes... She's just more naughty!' Peter Capaldi wasn't spared the harder questions and was put on the spot when a young fan wanted to know, 'Who do you prefer, Clara or River?' The slightest of pauses and a wry smile from Peter. 'Clara is a very special friend...' he reasoned, 'But my wife is my wife!'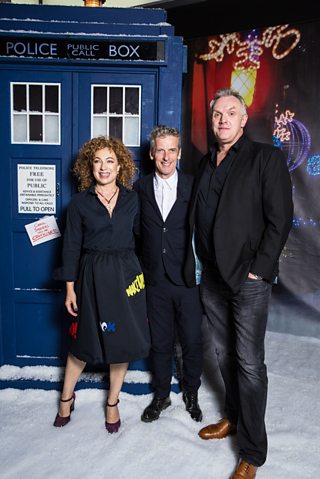 We'd love to bring you some of Greg Davies' replies, which were as witty (and occasionally outrageous!) as you'd expect, but his comments contained spoilers... What would River say if we gave those away?
It was fantastic to see so many people come along, many just to get a glimpse of the stars and have their photo taken in front of the TARDIS. Massive thanks to everyone who popped in and said hello!
And the final word goes to Peter Capaldi who was asked which was his favourite adventure to date. 'I don't like to pick favourite episodes as they all have remarkable things in them...' he told the audience. 'They're all amazing!' Hear, hear! And merry Christmas!
The Husbands of River Song is on BBC One on Christmas Day at 5.15pm.