Trailer, Stings and Other Things…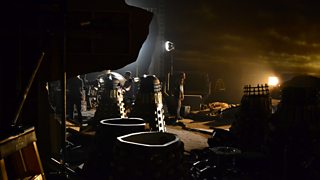 There are only eight weeks to go until The Day of the Doctor hits our screens and the anniversary celebrations will soon be in full swing!
Tonight, immediately before and after the brilliant Atlantis (BBC One, 8.25pm) there will be 'stings' for The Day of the Doctor that reveal the ident which will be used for the episode, plus a hashtag that (hopefully!) you'll soon be very familiar with…
We recently announced a raft of programmes that will be help celebrate the Doctor's anniversary but stand by for several surprises en route to the 50th… One of them is a brand new trailer, specially written and shot for The Day of the Doctor. It's never been seen before and is currently in post-production. Bold, brilliant and unexpected, it promises to be an ideal way to look forward to the big day – 23 November.
We'll bring you that trailer as soon as we can, but in the meantime, here's a shot from behind the scenes of its production. And don't forget to catch the stings tonight on BBC One around Atlantis! If they're on a little late for you, don't worry, we'll have them right here on the official site so you can watch for weeks after they air!