The Making of Doctor Who Live: The Next Doctor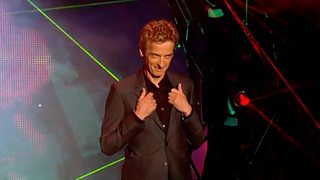 Guy Freeman was the executive producer for Doctor Who Live: The Next Doctor and in this piece he gives a fascinating account of how the programme was made. Many thanks to Guy for allowing us to share the following article:
Phil Dolling, Head of Events, called me whilst we were on location, "We've been asked to make a live show to reveal who'll be taking over from Matt Smith, in Doctor Who"
"Great – let's talk it through after this shoot?"

"Well, they might want to do it in 3 weeks' time, so we need to start finding a team now"

"OK – when do we find out who the next Doctor is?"

"We don't – it has to be kept secret and the show isn't even going to be billed until the very last minute, in order to keep people off the scent"

And so back in the office, on Monday 15th July, we didn't have a confirmed transmission date, a host, a studio, a set or any guests. What we did have though was the now famous codename "Houdini", used by Doctor Who's Executive Producer, Brian Minchin to describe the mysterious star of our show.   

However much I thought I knew about Doctor Who, it's nothing compared to what the show's global army of fans - the "Whovians" - know. Although we were making a show for a very mainstream audience, some of whom might only be casual Doctor Who viewers, we also knew that there'd be trouble if we didn't get the fine detail right for the hardcore fans too!

Luckily, we had a core team in place with a frighteningly good knowledge of the world's most famous Time Lord and they set about the task of ordering up tapes of episodes from across the show's 50 year history, ready for the start of editing. BBC Worldwide have restored many of the classic episodes for DVD release and they very kindly supplied us with their master tapes.

By the end of the first week, our commissioner Pinki Chambers helped us lock the tx date [note – the date of transmission]  to 4th August, so that we could book a studio and staff it – although we still weren't able to tell anyone exactly what the show was about.   

The biggest challenge was how to recruit a studio audience of Doctor Who fans, without giving the game away. In the end, we asked Audience Services to place an ad on their website for a new "entertainment pilot, celebrating long-running TV shows. This episode looks back at 50 years of Doctor Who". Within two days, 5,000 people had applied for tickets.

Zoe Ball is such a fan of Doctor Who that she was prepared to re-arrange holiday plans to host the show. Only when we met up with her a week beforehand could we tell her that she'd be revealing and interviewing 'Houdini'. Never have I seen a more excited presenter – a real joy to work with.

What first appeared to be a problem, ultimately worked in our favour, I think. Matt Smith was in LA and so couldn't appear live on the show. However, the interview we filmed with him out there was incredibly revealing. He was in a highly reflective mood and expressed his feelings about being in the show and leaving it, in a way that wouldn't have been possible in front of a live audience. Our PD [note – the Producer Director] intercut his remarks with some fantastic clips to create a very powerful package for the show.

As other interviewees were either being booked for the studio or filmed and edited, plans for the studio took shape – with a set based on the 'space time vortex' in Doctor who's opening titles.  All we needed was an authentic model Tardis to hang from the studio grid. Doctor Who's very own prop man rose to the challenge of building one within a week, complete with motor to revolve it and internal lighting. Very fine it looked too when it arrived in studio – a perfect, 3-foot high replica.

At midnight, on Thursday 1st August, the press release went out to let everyone know that what had been billed up to then as "Celebrity Mastermind" was now going to be our show. At last, we could speak openly about it and do vital things like talk to Red Bee about on air times and tell our studio guests what the show was really about!

On Saturday 3rd, as the press ramped up their speculation about Houdini, one of our co-ordinators drove around Borehamwood, looking for an anonymous car park. Having given that location to Brian, this is where Houdini was brought to, at lunchtime on Sunday. Peter Capaldi – as we could then call him - was bundled into a people carrier, where he lay on the back seat with a blanket over him, as our co-ordinator drove him down Borehamwood high street and into the studios.   

Despite the less than glamorous arrival, Peter was in very good spirits, as we continued to keep him well hidden. As we went on air, the excitement in the studio was fantastic. Despite Peter's name featuring in the press amongst several other runners and riders, no-one knew for certain it was him until he walked out onto that set. As well as great viewing figures on BBC One, the moment generated half a million tweets and record daytime figures for BBC America's live simulcast too.

It was a great thrill for us to be part of it and we wish Peter every success in the iconic role. Huge thanks to the Doctor Who team for trusting us with their national treasure and to everyone who came together at such short notice, to do such a great job. 
You can see the moment of the big reveal here!