Christopher Barry (1925 – 2014)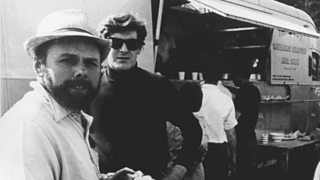 Christopher Barry (above, left), one of the stalwarts of early Doctor Who.
We're sad to report the death of Christopher Barry, one of Doctor Who's most significant directors.
He will be remembered forever for directing the episodes that introduced the Daleks but he was also at the helm for many other pivotal stories including the crucial debut adventures of the Second and Fourth Doctors, as well as The Daemons the 1971 five-parter that is often cited as one of the show's finest entries.
Christopher Barry also worked on a number of other high-profile series including The Tripods, Moonbase 3 and Out of the Unknown but in the 1960s he was an integral part of Doctor Who's genesis. Writing about him on the site for An Adventure in Space and Time, we recently noted, 'Barry must take much of the credit for some early, magnificent moments in the history of Doctor Who: the scene where the Daleks are finally revealed is perfectly executed with the audience at home sharing the mixture of emotions caught on the faces of the Doctor and his companions as they viewed the monsters for the first time. Even more powerful is the first confrontation between human and Dalek, shot from the latter's point of view, meaning poor Barbara Wright's reaction to the sight is at once terrifying and frustrating. We share her shock but desperately want to see whatever has triggered the young woman's horror… Yet we must wait a week for the full reveal!'
We ended that feature with these words: 'In recent years Christopher Barry has talked at length about his involvement in Doctor Who. A thoughtful and engaging speaker he remains something of a fan favourite, both for the wonderful stories he directed and his take on the show he did so much to develop.'
Read more about the career of Christopher Barry (1925 – 2014).
 See some brilliant scenes directed by Christopher Barry including the Doctor's first meeting with the Daleks, five priceless moments from The Daemons and some wonderful exchanges from the adventure that introduced the Sisterhood of Karn: The Brain of Morbius.