Steven Moffat Discusses Peter Capaldi and the New Series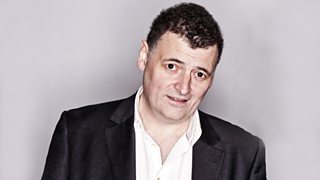 Doctor Who's lead writer and executive producer, Steven Moffat, recently appeared at the Hay Festival and discussed the new series and how Peter Capaldi became the Doctor.
He also touched on the process of casting Peter Capaldi and revealed, 'To keep it completely secret I got him around to my house and we auditioned him there… I wrote these daft little scenes for him. And he carried them off. And, of course, he was brilliant, because he's Peter Capaldi and he's always brilliant!'
He also offered a tantalising glimpse into what we have to look forward to in the new series, commenting, 'We haven't made much of change to Doctor Who since it came back in 2005… I just felt it needs to be a bit more different now. It's needs to be surprising again!'
You can find out more in this clip from his fascinating interview.

The new Doctor lands on BBC One in August, 2014 and you can watch the latest 'teaser trailer' now!