New Doctor Who Gallery: Dinosaurs on a Spaceship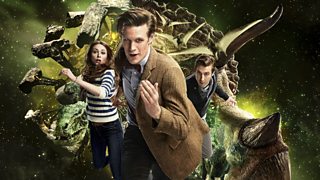 Invasion of the dinosaurs!
If you thought Asylum of the Daleks was spectacular, stand by for the jaw-dropping Dinosaurs on a Spaceship! As our new gallery for Saturday's episode shows, it's going to be another big adventure for the Doctor… and this time he he's got company!
Matt Smith (the Doctor), Karen Gillan (Amy) and Arthur Darvill (Rory) are joined by Mark Williams who plays Rory's dad, Brian. Famous for his work on hits like the Harry Potter movies and The Fast Show, this is Mark's Doctor Who debut. Rupert Graves (Sherlock, Scott & Bailey) plays Riddell, Riann Steele (Hamlet, Death in Paradise) is on board as Queen Nefertiti and David Bradley (the Harry Potter movies, Hot Fuzz, Blackpool) is Solomon.
Visit the new gallery now or select one of the images below to install as you wallpaper.
Dinosaurs on a Spaceship is on BBC One on Saturday at 7.35pm.