Star Interviews and More about the New Series!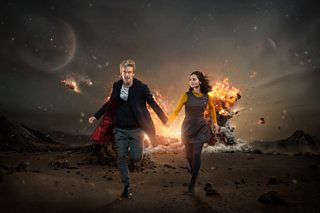 It's all ahead of Doctor Who's return on Saturday, 19 September. The show storms back onto our screens with The Magician's Apprentice, the first episode of a two-part adventure. Want to know more? Who wouldn't? Luckily, the following details about it have just been released…
"Where is the Doctor?" When the skies of Earth are frozen by a mysterious alien force, Clara needs her friend. But where is the Doctor, and what is he hiding from? As past deeds come back to haunt him, old enemies will come face-to-face, and for the Doctor and Clara survival seems impossible…"
The second episode hits our screen the following Saturday (26 September). Called The Witch's Familiar, the following details have just been released about it:
"Trapped and alone in a terrifying Dalek city, the Doctor is at the heart of an evil Empire; no sonic, no TARDIS, nobody to help. With his greatest temptation before him, can the Doctor resist? And will there be mercy?"
Dalek city! Evil empire! Greatest temptation! What?! We can't wait!