The Night Of The Doctor: Excitement Levels Reach 8/8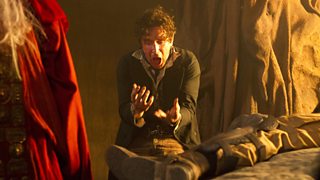 We were thrilled and grateful to everyone who contacted us saying how much they loved The Night Of The Doctor and how exciting they found the new mini episode! The universal delight and sense of thrilled surprise was overwhelming and we'd like to offer sincere thanks to all those web sites that pushed to the adventure without revealing any of its secrets.
The revelations that The Night Of The Doctor sprang were jubilantly received by fans around the world and critics have already applauded the return of the Eighth Doctor. The secrecy surrounding the story enabled huge numbers of fans to watch and relish the surprises it held.
The Night Of The Doctor was our most ambitious mini episode yet, a 7- minute special written by Steven Moffat that plunges viewers into the chaos of the Time War where a spacecraft is hurtling out of control… But the TARDIS is on hand to help its pilot and we all know who will step from the blue box to offer assistance except… 'I'm a Doctor!' says a familiar voice. 'But probably not the one you expected!'
Dead right! There he was - the Eighth Doctor himself - last seen in the Doctor Who TV Movie in 1996! It was a wonderful moment and Paul McGann was able to recapture the character immediately with all the wit and charisma that typified his take on the Doctor. We soon had another blast from the past, quite literally as the Doctor crash-landed on Karn, last seen in The Brain of Morbius. And for the first time ever, the dying Doctor was able to choose his next self. A spectacular regeneration and 'the War Doctor' appears… This version of the Time Lord, as played by John Hurt, was first seen in The Name of the Doctor, but here he looks much younger… Who was able to resist hitting 'Play this again' immediately?
If you missed it, we also ran an interview with Steven Moffat in which he discusses the adventure and how it came about, and of course, the mini episode itself is available to watch now!
And as day follows night, the 50th Anniversary special will be here soon! The Day of the Doctor premieres on BBC One on Saturday, 23 November at 7.50pm and you can see clips and trailers for that adventure now!