Twitter Commentary for The Day of the Doctor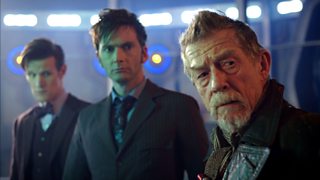 The Day of the Doctor was one of the biggest episodes in Doctor Who's history and it's repeated tonight on BBC Three at 7.45pm. For the first time ever we'll be providing a special twitter commentary for the adventure as it's broadcast, bringing you a broad range of photos, facts, related links and much more to accompany the screening.
We hope it will enhance your enjoyment of The Day of the Doctor but equally we aim to make sure the tweets will be enjoyable and fun, even if you're not watching the episode.
If you're not already following the official Doctor Who twitter account, check it out at @bbcdoctorwho and hit 'follow' to make sure you're up-to-date with all the latest news, new series info and lots more.
Tonight's twitter commentary will be a first so after the event we'd love to know what you thought of it. You can either tweet us or drop us a line at thedoctor@bbc.co.uk Tell us what you think we get right and where we could improve with twitter commentaries.
But for the meantime, don't forget to follow us on @bbcdoctorwho so you can enjoy the twitter commentary for the awesome epic that is The Day of the Doctor!