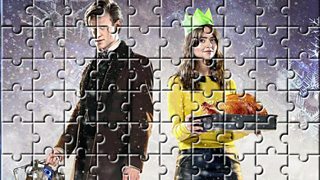 In 1767 John Spilsbury cut a wooden map of the world into irregular pieces and invited people to put the world back together again.  It proved a popular distraction and many more followed… These early wooden puzzles were called 'Dissected Maps' and as their popularity grew they began to be made using jig saws and eventually, this tool - used for manufacture - gave its name to the puzzle itself:  The jigsaw.
Today, centuries later we present three online Doctor Who jigsaws! We're not asking you to put the world back together but can you reassemble these three images relating to The Time of the Doctor?
Once completed, each jigsaw will reveal the answer to the question asked at the start of the puzzle… Good luck with all three!